Ever wonder why many people are perplexed on how to right-click on a Mac? There is a very good reason that you will come across many that are still wondering about the correct way to right-click on Mac. First, look at an Apple laptop might make it seem that it is impossible to perform a right-click.
One of the main reasons is that Mac's come with a trackpad (single button) )with no other buttons on it unlike most of the other laptops. We are going to show you various ways by which you can right-click on Mac - using a trackpad, magic mouse or any other mouse.
Apple's laptops have always held the notion that one-button mouse is most efficient. This infamous legacy of having single-button trackpad has left many bewildered, especially those who switch from Windows laptop to a Mac. For a long time, the Control-Click and primary click on trackpad were offered the same functionality of right-click. The same is still supported by various browsers.
But the good news is that you are not alone and there are still many who are unsure of the right way to right-click on a Mac. Our guide is going to help stay productive while using an Apple laptop. Interestingly, even Apple's mice (magic mouse), the new Macbook Air or Pro does not come with a right-click or how Apple calls it - secondary button. Modern Macs come with a multi-touch trackpad, with no specific place for right or left-clicking.
However, if you want to use a third-party mouse with your Mac then there is no need to make any extra effort. Mac's recognize the right-click on these mouses and map it to the operating systems' function. But if you want to stick to using Mac's built-in trackpad or magic mouse for right-click functionality, then below are the way you use.
Methods to Right-Click on Mac
There are several ways one can right-click on the Mac. But only you can choose which of these methods are more comfortable and increase productivity at work.
Control-Clicking
Control-Clicking is simple and does not require to tweak anything on the settings. All you have to do is press the 'Control' key while you tap the mouse or trackpad. For those who are new to Mac, the 'Control' key is placed on the far end and do not confuse it for 'Command' or 'Option' key. The Option key on the Mac is what an Alt is on a Windows computer.
Right-Click With a Trackpad
Right-clicking with a trackpad on Mac is also very simple. The only issue is that most are not aware of the functionality. If by default, the secondary click is not enabled then users can configure it easily. Follow the below steps to enable two-finger to right-click:
First and foremost is to open System Preferences. There are two ways to do it - one by going to the Apple Menu and selecting it and the other is by pressing Command (cmd) + Space to open quick look and then searching for 'System Preferences.'
1 Click on 'Trackpad'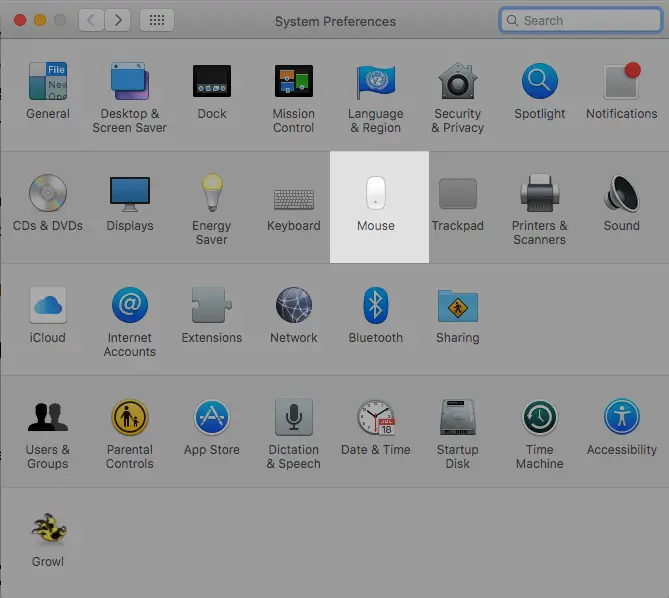 2 Next, from the tabs above, choose the 'Point & Click.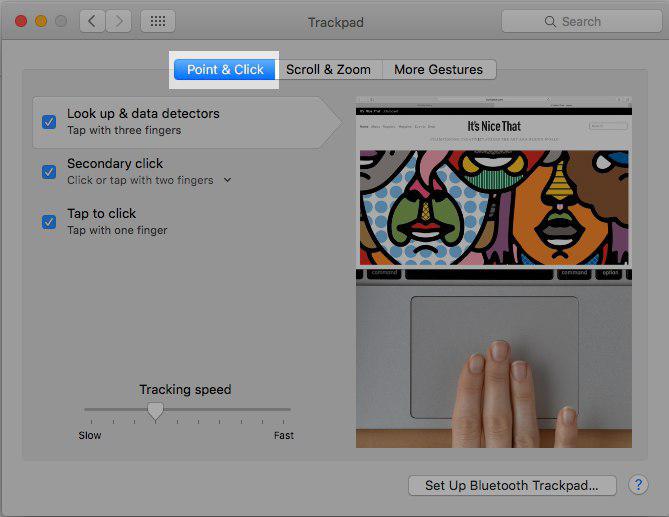 3 Now, see if the box next to 'secondary click' is unchecked. If so, then click on the box to check it.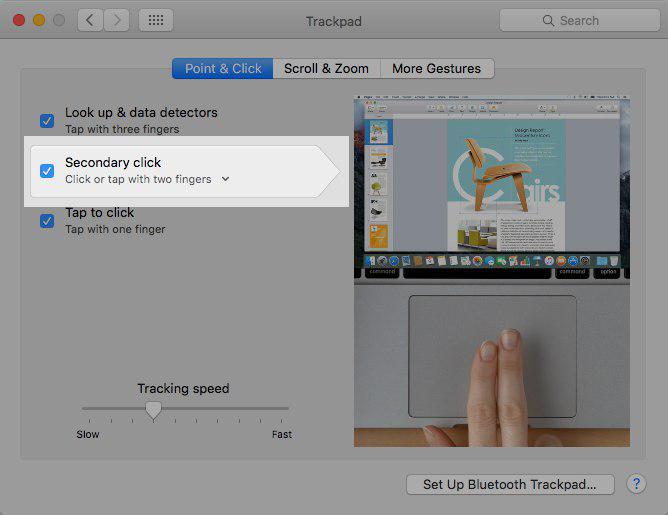 4 Click on the down arrow that is under the 'secondary click.'
5 Choose the option 'click or tap with two fingers'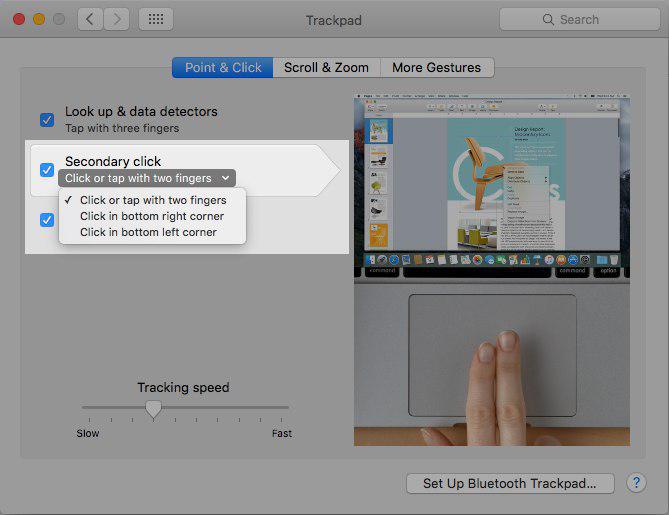 6 Exit the System Preference and check if the change is done.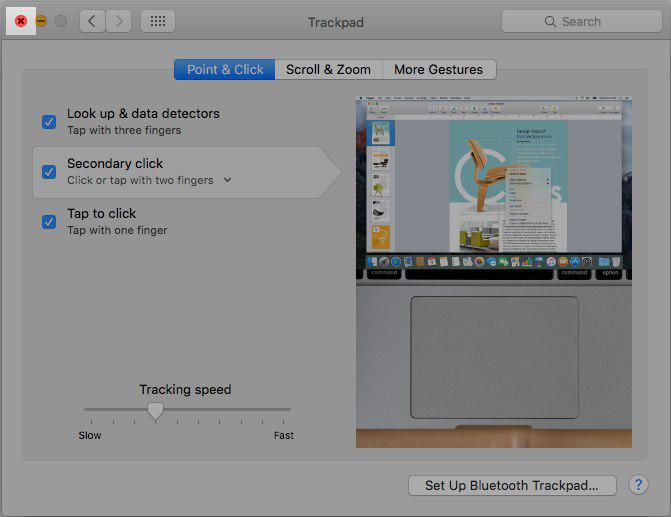 Apart from 'two-finger right-click', Apple offers several other choices. sIn case, you are habituated with the right-click on the bottom-right, then select that option instead of 'click with two fingers.' One can also choose to set the right-click on the trackpad to bottom-left, although it is not very common to do so.
Also, Mac offers various other configurations. If you find tapping with two fingers more intuitive than clicking with two fingers, then check the box named 'Tap to click.' The change will ensure that tapping with two fingers does the same job.
More so, one can also choose to configure the speed at which the pointer moves on the screen, which is often referred to as Tracking Speed. Users will find a Tracking Speed scale at the bottom of the same tab 'Point & Click'. You can adjust it to your requirement to make it go faster or slower.
The other two tabs allow you to control the scrolling and zooming and gestures. If you feel that changes you made to 'secondary click' does not suit your working style, then one can always go back to the settings and choose a different method to right-click.
Right-Click With Magic Mouse
It was of no surprise that Apple would continue the legacy of no button for secondary click on its beautifully designed mice. Surprisingly, the magic mouse comes with no buttons. While there may not be visible buttons, the mice are designed to differentiate between left and right-click. More so, it offers users with various other configuration options. Below are the steps to configure right-click on the magic mouse:
1 Open System Preference from the dock.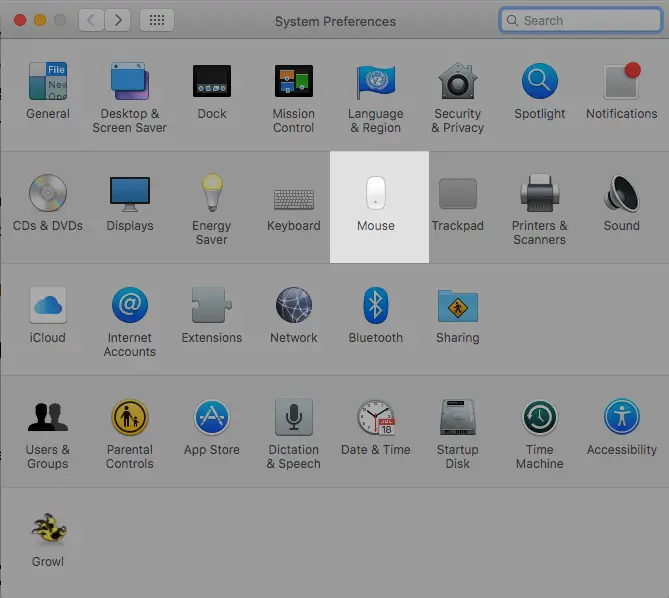 2 Choose the 'Mouse' from the pane.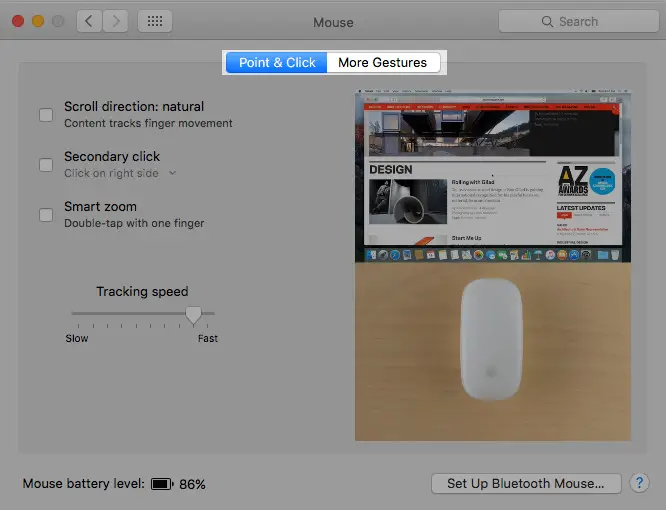 3 Click on 'Point & Click' akin to setting right-click on the trackpad.
4 Check the box next to 'Secondary Click.'
5 Now, select the option 'Click on the right side' to set the right-click on the mice.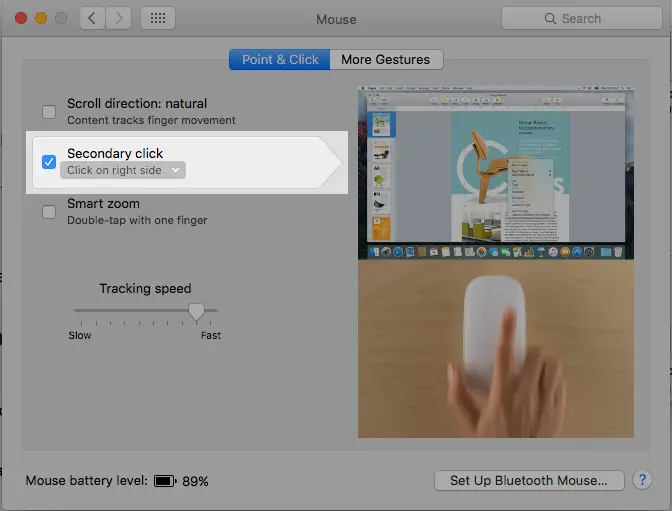 Interestingly, one can even set the left-side of the mouse to function as right-clicking on the Apple mouse. To do so, just select the option 'click on the left side.'
Similarly, users can also set the pointer speed of the mouse in the same pane.
Force Right-Click (Only for New Macbook With Force Trackpad)
The newer Macbook, Macbook Pro and Macbook Air comes with a Force Trackpad. The trackpad is built such that various levels of pressure lead to achieving clicks. If one press and hold the trackpad for longer, a contextual menu opens similar to that of a right-click. While it is not exactly a right-click but an equivalent to it.
Changing Double-Click Speed
While you have learned how to right-click on Mac. There are several other settings on your Apple laptop that we would like you to check such as changing the double-click speed. Commonly, the double-click set by default works for most.
However, many would like to change the speed especially gamers or those who double-click more often and would like to increase productivity and efficiency. Some might even want to slow the speed of double-click. Whatever the case may be, below are the steps to change the double-click configuration:
1 Launch System Preferences from the Dock.
2 Click on the 'Accessibility' option.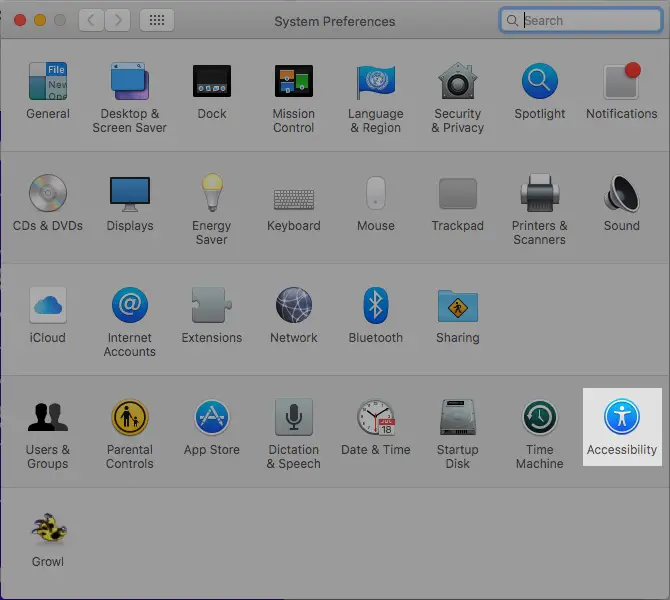 3 Select 'Mouse & Trackpad' from all the options on the left pane.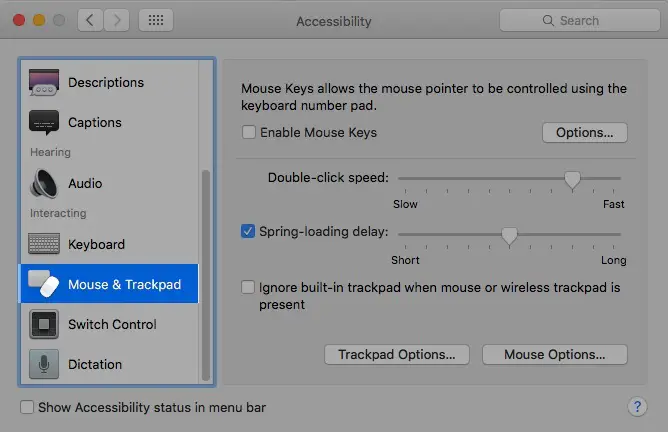 4 Now adjust the slider next to 'Double-click speed' to make it faster or slower as per your requirement.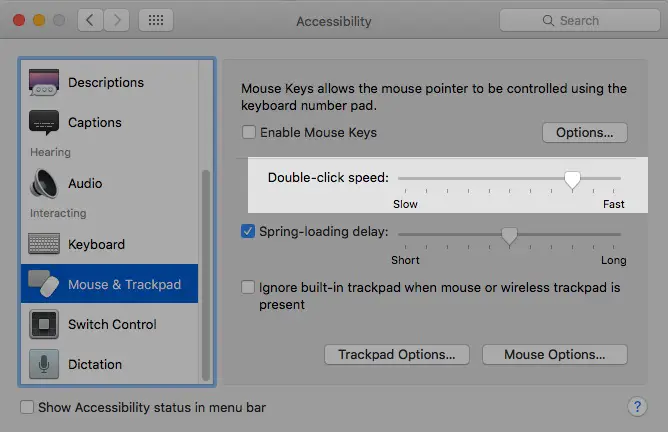 While there are plenty of configuration options that come built into mac, there much third-party software that people use. These third-party programs allow advance configurations including changing the look of the entire System Preferences pane.
The above is a basic guide on how to right-click on Mac. It covers all options that one can choose from as per their working habit and convenience.