Online clicking games have significantly improved the scope of the gaming culture. While new advanced technologies have transformed the gaming industry, the demand for olden mouse clicking games is still high.
Although most of these online clicking titles are pass time games, many players compete professionally. To that extent, there are various methods of striking the mouse such as Jitter, Butterfly and Drag clicking that helps one click more number of times over a short period.
List of Top-Rated Gaming Mouse in 2019
Clicking the mouse in short bursts demand strength, speed, and stamina. But at the same time, it also calls for good mouses that can absorb the continuous striking. For that matter, there are specific mouse variants that are designed to take the constant finger slamming.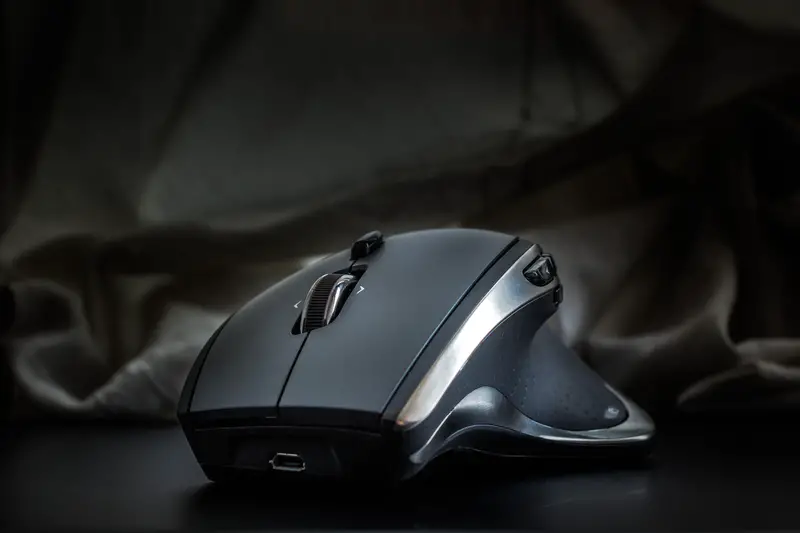 Jitter clicking is one of those styles of striking the mouse, whereby a player strains their arm. The method is no run in the park and requires players to train rigorously to master the technique. Players can increase their click speed per second using jitter clicking. Below we have narrowed down the five best mouses for jitter clicking.
1 – Logitech G502 Proteus Spectrum (Ambidextrous Gaming Mouse 2019)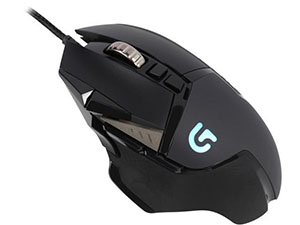 Logitech G502 Proteus Core is a first-rate polyvalent gaming mouse. Its design and performance make it very popular among gamers in any genres. It is currently one of the most celebrated and recognized gaming mice. This is probably the best gaming mouse you can afford in 2019.
The build quality of the mouse and textured grip are exceptional. The G502 comes with Logitech's best optical sensor – PMW3366, that is accurate and responsive to another level. As such that it precisely registers hand movements on screen. Also, the tracking accuracy of the mouse top-notch.
Logitech G502 Proteus Spectrum 32-bit ARM microprocessor, ensuring the USB report rate of 1000 Hz (1ms). The mouse weighs only 164 g, which is also Adjustable and comes with a resolution of 200-12,000 dpi. The mouse compatible with Windows 7 or later, and Mac OS X 10.10 or later.
The mouse comes with a sleek and smart design that offers ultimate stability and comfort to gamers. The design suits players that are accustomed to claw grip or palm grip. It comes with 11 programmable buttons that are placed in a smart layout.
Players use the left and right mouse button to jitter click, and remaining buttons for other games.
The mouse modifies the scroll friction through non-programmable buttons underneath the scroll wheel.
All-in-all, the Logitech G502 Proteus Spectrum, is a robust and sturdy gaming mouse that can bear heavy striking when jitter clicking.
Pros
Gamers can customize all the eleven programmable button. More so, one can adjust the speed of the scroll to ensure accuracy and fast movements.
It comes with a smart button layout.
Uses Logitech's modern and advanced gaming software the allows in-depth configuration.
The mouse packs 16.8 million colors, allowing users to configure the RGB lightning to match any room space.
It equips Logitech's most advanced optical gaming sensor that ensures the highest level of accuracy and responsiveness.
The responsive USB data format ascertains report rate of 1ms.
Logitech G502 Proteus Spectrum uses powerful and robust 32-bit ARM microprocessor.
Gamers can adjust the weight and the balance of the mouse. The mouse allows players to reposition/adjust the 3.6g weight in a bid to ensure it meets the need of all players.
It comes with zero acceleration and smoothing throughout a wide DPI range of 200-12,000.
Cons
The size and layout of the mouse are designed keeping in mind all players, but it is not the best fit for gamers with big hands.
The scroll wheel when tilted left is very sensitive.
It is not so comfortable for left-hand users.
The mouse is heavy for competitive for first-person shooter games.
2 – Razer DeathAdder Elite (Best Mouse For Gaming)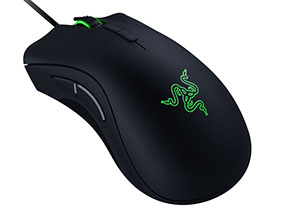 Razer DeathAdder Elite is one of the best gaming mouse available in the market. It is built with cutting edge technology that makes sure it offers extended durability. The easy-to-use mouse is comfortable and best suited for clicking games. Over time, Razer DeathAdder is one of the top all-purpose gaming mice.
The mouse is packed with true 16,000 DPI optical sensor that provides an unsurpassable accuracy and velocity.
Razer DeathAdder Elite maintains the sleek and straightforward design of its predecessors. Also, it offers colorful lighting options and refined sensitivity. It is a very comfortable mouse with a smart button layout that provides higher resistance. It comes with seven buttons that aim to hope the need of every gamer. In comparison to its counterparts, Razer DeathAdder Elite is relatively small. As such, all the buttons on the mouse are easily accessible.
Also, the scroll wheel is perked up to offer better grip to gamers. The mouse weights approximately 96 grams and comes with a seven-foot lightweight fiber cable. It right-handed ergonomic design comes with textured rubber side grips that work exceptionally and offers a comfortable feel.
Razer DeathAdder Elite offers RGB lighting customization whereby gamers can configure DPI up to 16,000. The mouse runs on Razer Synapse 2.0 software that has a simple and straightforward navigable interface. Users can use the software to program the seven buttons as to their needs. It is one of the favorites among gamers for jitter clicking, and one can always test on the Kohi Click Test.
Pros
The mouse has a top-grade optical sensor (16,000 dpi) built that translates hand movements accurately. It is best suited for games where the fast or low-speed click is a must.
Razer DeathAdder Elite is designed to perfection for any mouse grip style. It offers the ultimate comfort to gamers.
It provides chroma lighting, allowing gamers to customize from 16.8 million color options. More so, it can meet the color scheme of any room, whether its electric blue or neon green.
Razer DeathAdder Elite offers 95% accuracy in mouse movement speeds of up to 450 inches per second.
The company guarantees that the mouse click is durable to absorb over 50 million clicks.
It is an excellent mouse at an affordable price.
Cons
It does not offer any unique functions than its competitors.
Razer DeathAdder Elite not upgraded than its predecessors.
Some users report double click issues.
Gamers must log in to the online cloud to use the mouse to its full potential.
3 – Logitech G900 Chaos Spectrum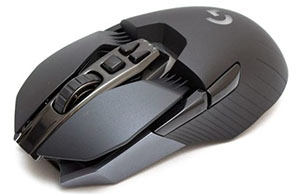 Logitech G900 Chaos Spectrum is one of the only wireless mouse that comes with comfortable design. It is a lightweight superlative mouse that is trusted by among the best eSports athletes.
More so, the mouse offers staggering responsiveness that features a report rate of 1-millisecond.
Logitech G900 Chaos Spectrum uses 2.4GHz wireless advanced connectivity that provides a quicker response to the motion. The mouse is compatible with Windows 7 or later.
The mouse is built with battery-saving technology that lasts around 32-hours battery life with a single charge. More so, gamers can any time to switch to wired mode.
One of the unique perspectives about the mouse is that it is not developed based on any pre-existing mouse design. Therefore, it offers a unique appearance. More so, it is best to fit for both dominant hand users. More so, it is best for jitter clicking as it can not only absorb the constant striking but also maintains stability even with sudden jerks.
Logitech G900 Chaos Spectrum is a thin, small and lightweight mouse. The mouse construction is optimized to scale down weight. It approximately 108 grams and yet offers excellent stability. Logitech claims that each component of the mouse was optimized to reduce every milligram possible.
The mouse comes with a button to alter the scroll wheel resistance. Logitech G900 Chaos Spectrum provides tracking accuracy as it leverages a robust optical sensor (PMW3366). It offers zero filterings across the complete 200-12,000 DPI, ensuring top-notch accuracy.
Logitech G900 Chaos Spectrum has a modifiable button layout and modern design to ascertain perfect fit. Users can use the Logitech gaming software for DPI shifting, or even program the eleven buttons. It is an ideal buy for online mouse clicker games.
Pros
RGB customizable lighting – Gamers can adjust brightness, light patterns and about 16. Million colors to match their style and environment.
It is a professional tournament-grade quality mouse used and trusted by the top gaming athletes. The mouse provides lag-free user experience and records hand movements on display exceptionally fast.
The build of Logitech G900 Chaos Spectrum is such that each stroke is smooth and precise.
The premium all-purpose peripheral mouse comes affordable.
The wireless mouse charges fast and has long battery life.
Users can customize the mouse layout to meet their requirements. The design of the mouse is best for both right and left-hand grips.
It has an excellent and sturdy scroll wheel.
Cons
Although it is an all-purpose mouse, it is designed for a specific audience.
It does not come with a charging dock.
The scroll wheel rattles at times.
4 – Logitech G303 Daedalus Apex (a highly responsive gaming mouse)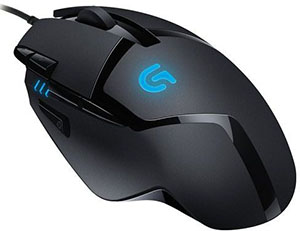 Logitech G303 Daedalus Apex is a highly responsive gaming mouse and first-pick of many gamers. The build quality of the mouse is average and offers extended stability. It is identical to its predecessor Logitech 302 but provides a better palm rest space.
It is a diamond-shaped mouse that approximately weighs 127 grams. The mouse equipped with six individual buttons that include a DPI cycle button. More so, it has a button underneath the scroll wheel that enables gamers to swap between dpi swiftly. Over five dpi settings are initiating from 5dpi to lightning-fast maneuvers up to 12,000dpi. The design makes it an all-purpose gaming mouse that is suitable to perform most mouse functions. It is compatible with Windows Vista, Windows 7 and later. It occupies about 150mb disk storage space.
One of the added perks of the Logitech G303 Daedalus Apex is that it can save up to three-game sensitivity profiles. It comes with Logitech's metal spring button tensioning system. Logitech guarantees the durability of the mouse and is tested for 20 million clicks.
It has a customizable lighting color that can match most of the environment. Moreover, gamers can choose from a wide range of color palette of 16.8 million colors. It has an added feature dubbed as the breathing mode whereby the color slowly fades in and out. For ultimate precision targeting, the optical sensor in the mouse translates hand movements with the highest precision.
Although, the design ambidextrous, left-hand users will not be able to strike the thumb button on the left side.
Pros
The layout of the side button is such that it is hard to press unwillingly and accessible when needed. The button traction is neither stiff nor loose.
It is one of the best lightweight gaming mice in the market. Although Logitech states the weight as 127 grams with a cord, without the cable, it is around 87 grams.
It offers excellent grip because of the diamond shape. It is a compact mouse but offers full features on a full-size gaming mouse.
Cons
Although it has six individual buttons, it only has one programmable button on top.
The build quality is not as good as its competitors.
Left-hand user can't click the left side thumb buttons, which is a significant drawback.
Users claim to face issues with the scroll wheel after a few months of usage.
Suitable for finger trip mouse and not for claw grip.
5 – Logitech G602 (wireless gaming mouse 2019)
Logitech G602 is an exceptional wireless gaming mouse that uses 2.4 GHz wireless connection.
It has a report rate of 2 milliseconds and provides a lag-free user experience. The mouse weighs 168 grams and offers satisfactory stability. It is powered with a USB port and is compatible with Windows Vista, 7 or later and Mac OSX 10.6.8 or higher. Also, it uses a 32-bit ARM microprocessor.
Upon purchase, a user gets the mouse, wireless receiver, 2 AA batteries, and receiver extender cable. The battery life of the mouse is 20 hours in performance mode and 1440 in endurance mode. The wireless range of the device is approximately 3 meters.
In comparison to its competitors, Logitech G602 has a lower racking resolution of 250-2,500 dpi. Moreover, its maximum speed is up to 2 meters/second. The mouse has mechanical switches that are perfect for jitter clicking. Logitech guarantees that it can take up to 20 million clicks.
Many gamers choose to go for auto clicker software to stimulate human clicks. But the sturdy build of the mouse is capable of absorbing all the constant finger slamming.
Logitech G602 has eleven programmable gaming buttons. Users can assign any keystroke or setup button triggers to any of controls using Logitech gaming software. It uses delta zero sensor technology to ensure high-accuracy cursor control. Moreover, the LED-illuminated sensor is designed in a way to accelerate the time it takes to record quick hand movements.
With the Logitech G602 mouse, gamers can switch to DPI level quickly. The programmable DPI button is laid out correctly to allow quick shift. More so, users can save up to five DPI sensitivity profiles.
Pros
One of the best benefits of the wireless mouse is that it can run on a single battery. Gamers can remove one battery to make it lighter in weight.
The design of the mouse is perfect for palm grip.
Logitech G602 is durable and has long-life buttons.
Quickly adjustable DPI.
It has 11 programmable buttons and offers greater customization.
Cons
Logitech G602 does not provide a wired option. Even though the battery life is good, it is a plus to have a wired alternative.
User claim that the middle click spoils faster.
The above are the top 5 best gaming mouse for jitter clicking. Logitech is a leader in a gaming mouse, and the options are evidence to it. There is a number of another mouse as well in the market, but these are one of the best. Most of the above-listed mouses can easily handle the fast slamming of fingers as they are designed for even more heavy use.