The gaming industry has evolved significantly over time, with new technologies entering the space every day. There are more graphically bewildering games now than ever before, but this has not led to the decline of mouse clicking online games that do not have the best graphics but still fun to play. Also, playing these games allows users to increase their clicking speed per second. However, there are number of different clicking methods such as Jitter click test that one can always leverage.
Before the introduction of high-power graphics game, most players enjoyed playing simple mouse clicking games online. In the past, these most age groups played these online games, but now mostly kids play the game. Although, it does not mean that adults can't enjoy the game. They are pass time games and also very addictive. There are plenty of games online with something here for everyone.
List of Best Clicking Games
Are you ready to play some challenging and compelling clicking games? The only thing you need is strength in your fingers to go long. Below we have listed some of the most played online mouse clicking games.
1 - Click Speed Test
CPS test game is a game that measures how fast you can click in 5 seconds and 6 other timing periods it is easy to play a game by just by clicking in a specific clicking area.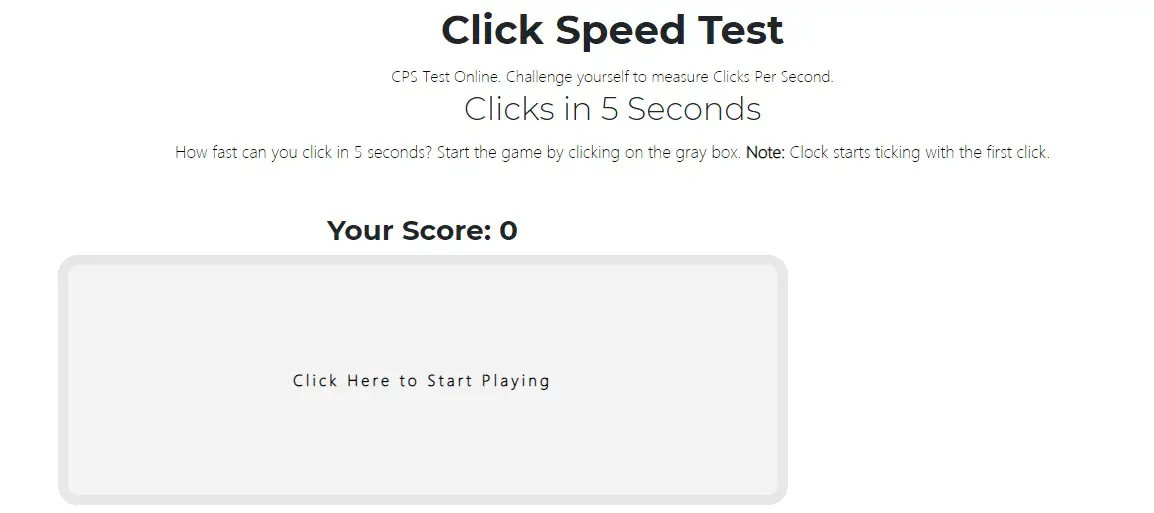 2 – Mouse Accuracy
Mouse Accuracy is one of the best games if one wants to enhance their mouse clicking speed and accuracy. The game is suited for all ages. It has a modern and straightforward interface making it the most professional games in the market.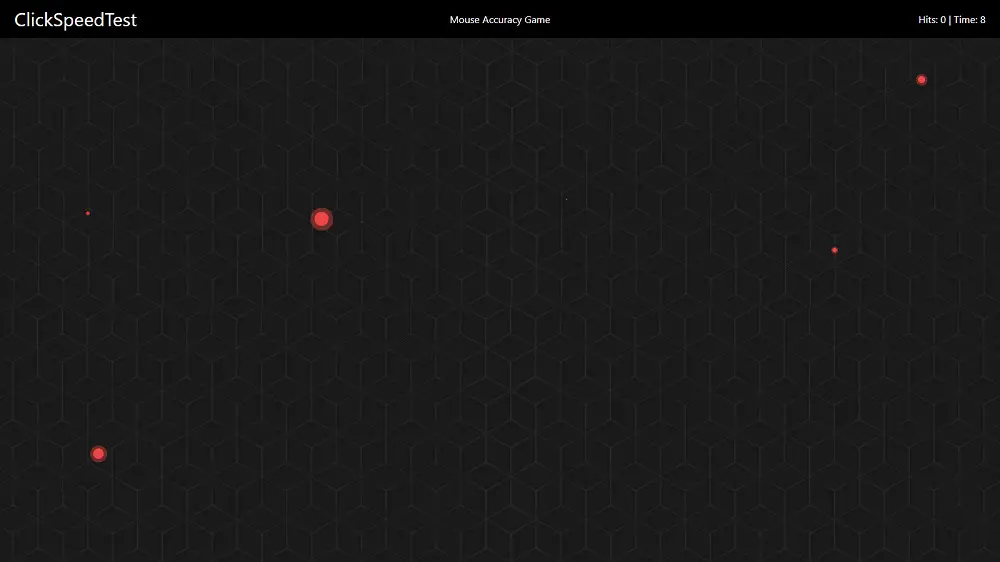 The game allows many configurations such as difficulty level, target size, and color, cursor style and duration of the play. With the completion of the game, the result will present many particulars such as score, accuracy, and efficiency. Moreover, one can challenge peers by directly sharing their score on social media.
Play Mouse Accuracy Clicker Game Online
3 – Grow Defense
Grow Defense is another awesome idle clicker game that has a basic premise. Unlike most mouse clicking games online, Grow Defense is a 3D game. It is a tower defense game, in which a player has to protect the castle from raiding creatures.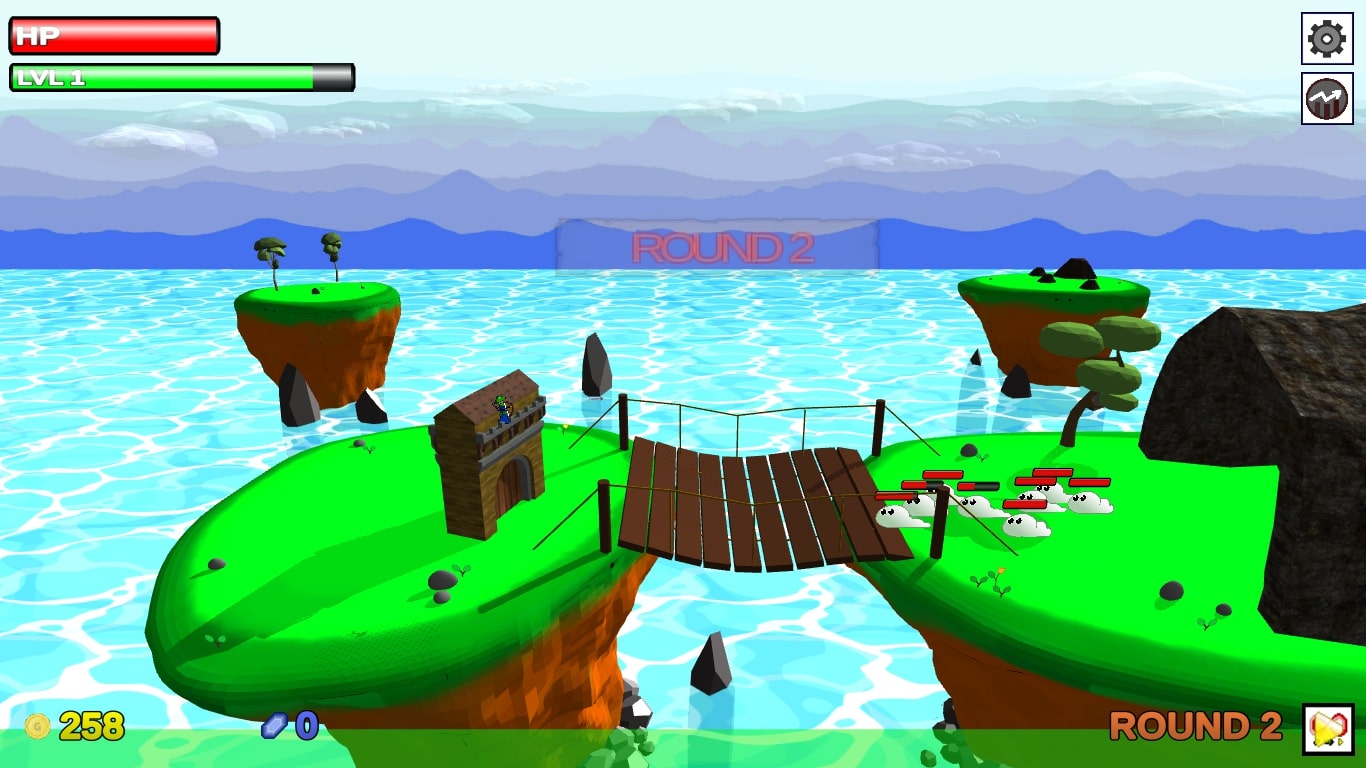 To protect, one must keep constantly clicking on invading creatures. As the game progresses, the number of creatures increase and grow stronger. As a player earns more gold, they can use the points to purchase and bolster their defense systems. Grow Defense is a perfect mix of pass time game and clicking. Also, it comes with many upgrades and levels. The game is also suited for adults. The game is perfect for testing one's mouse clicking skills.
4 – Boombox (best clicker game)
Boombox is a great mouse clicking game developed by Boombox Inc. and made by Guilherme Carvalho. The game is not only fun to play but can also test the stamina of players. If one loves to create destruction using explosives, then this is the perfect game. Players have to keep clicking on the screen and break the boxes to create mayhem.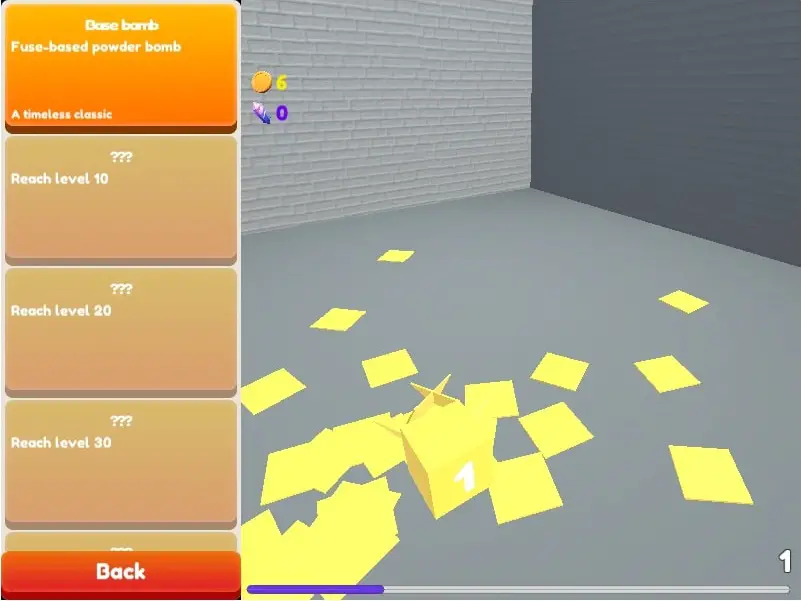 Players must destroy every box in the play area to gain points. The earned points will allow them to purchase bigger bombs. It is a perfect game for adults who have had a tough day at work and are willing to ease the pressure and relax.
5 – Spaceplan - Best idle clicker game
Spaceplan is a best idle clicking game that is also available Play Store and App store. The concept of the game is derived from Stephen Hawking's book – A Brief History of Time. Players have to click on the white button to generate power.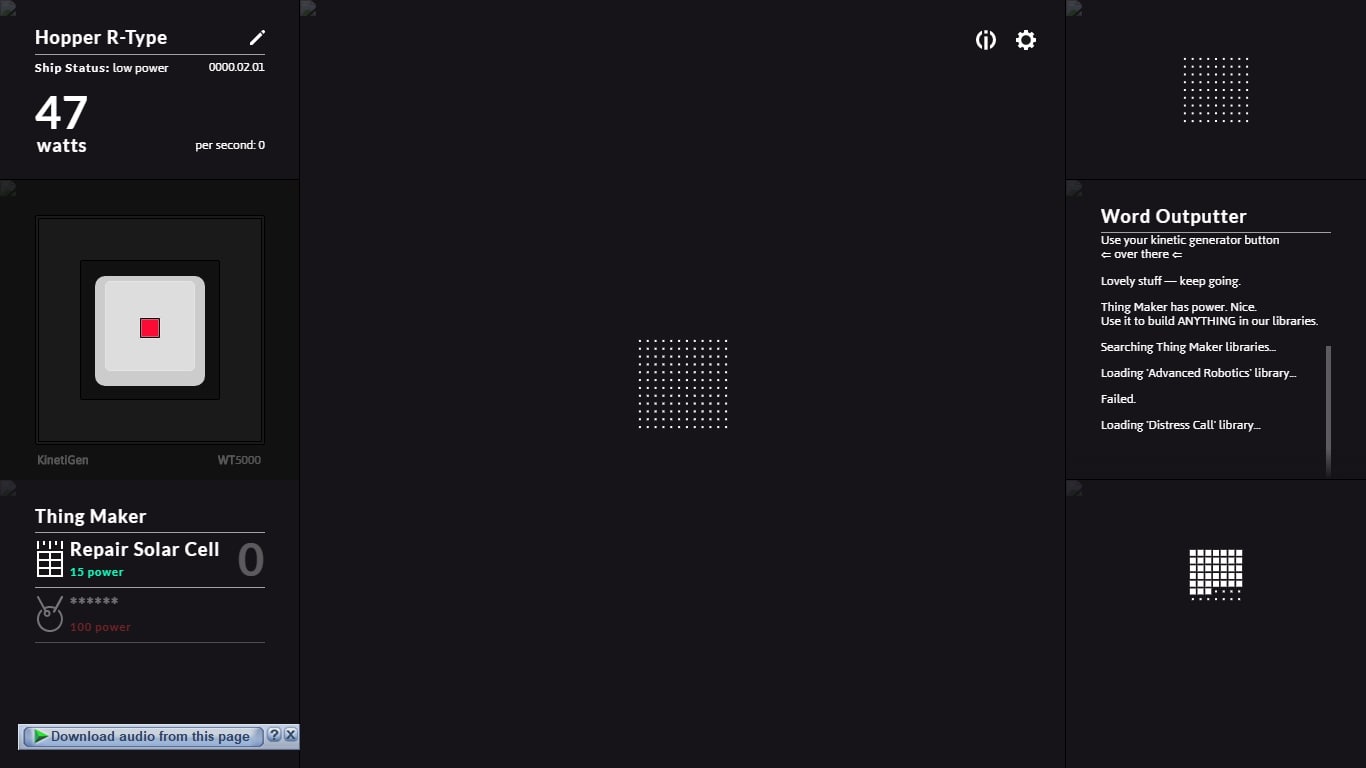 The premise of the game is simple, and the players have to launch small devices to a mysterious planet to create energy for their spaceship. With the new energy, a player can develop new probes and power generating resources. It's not easy as it sounds, as aliens in the other planets can destroy some of the probes send their way. It is a story-based game, so it's best to follow the gameplay.
6 – Dogs vs. Homework
Dogs vs. Homework is a fun and thoughtful mouse clicker game. The game is best suited for teenagers who are tired to do their homework. If you are one of those kids that are lazy to do the homework, then it's time to get the dogs to do it for you.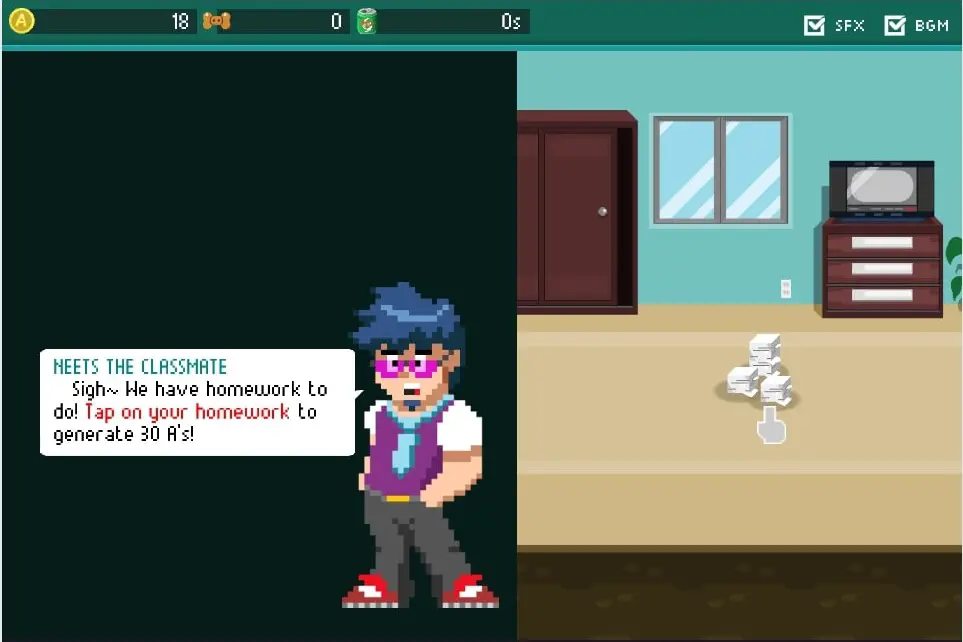 It is a straightforward and fantasy-based game where players are outsourcing homework to dogs. Players have to follow on-screen instructions and keep clicking to unlock more homework. Once done, one must continue clicking to unlock their homework buddy (dogs). One can always unlock more breeds once they collect more gold by clicking. Interestingly, as the game progresses, one can send dogs to take classes on their behalf.
Play Dog vs Homework Clicking Game Online
7 – Room Clicker (#1 mouse clicking game)
Room Clicker is one of the best online mouse clicking games that test a players stamina. A player needs to click anywhere in the room to earn rewards in the form of cash. The game gets even more interesting as players can also purchase to upgrade.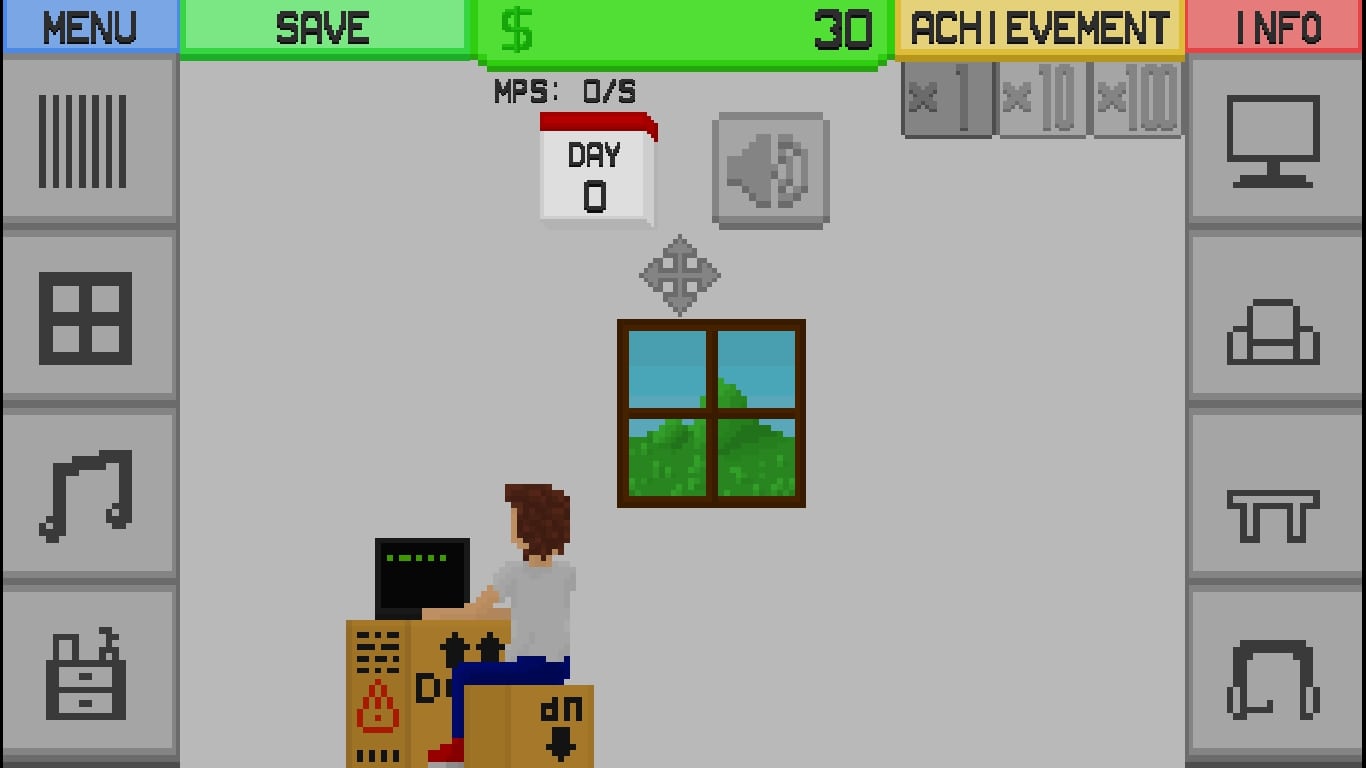 The game upgrades rapidly as such that players are required to click even faster. Upon reaching a certain level, gamers can make changes to the look of the game to make it more alluring. The main features of the game are that it has a simple interface. Moreover, the game is more addictive as it has the day and night cycle.
8 – Tanks Squad
Tanks Squad is yet another idle mouse clicker game that is not just fun but also helps increase the clicking speed. One has to destroy an entire tank squad that belongs to the enemy. While the tank is automatically shelling bombs on the enemy, a player can aid by clicking on the enemy tans as fast and as much as possible. The quicker the clicks, the faster the enemy tanks die down.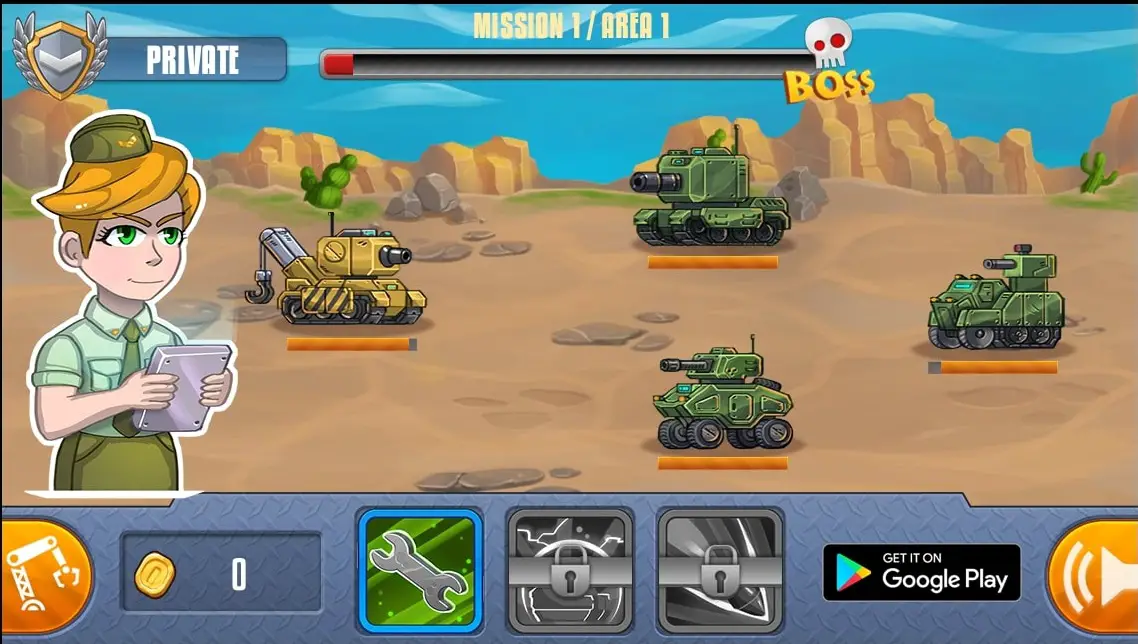 Players can earn gold and use to upgrade their tanks. Players can even purchase new tanks, and each has their unique ability. The best part of the game is that the tanks can regenerate and fight back the enemies.
9 – Tap Tap Builder
Tap Tap Builder is a great city-building clicker game that can test the actual stamina of a player. The game is impressive as a player has free will to construct their city on an independent island. Players have complete control on the way the city is developed including roads and building structures.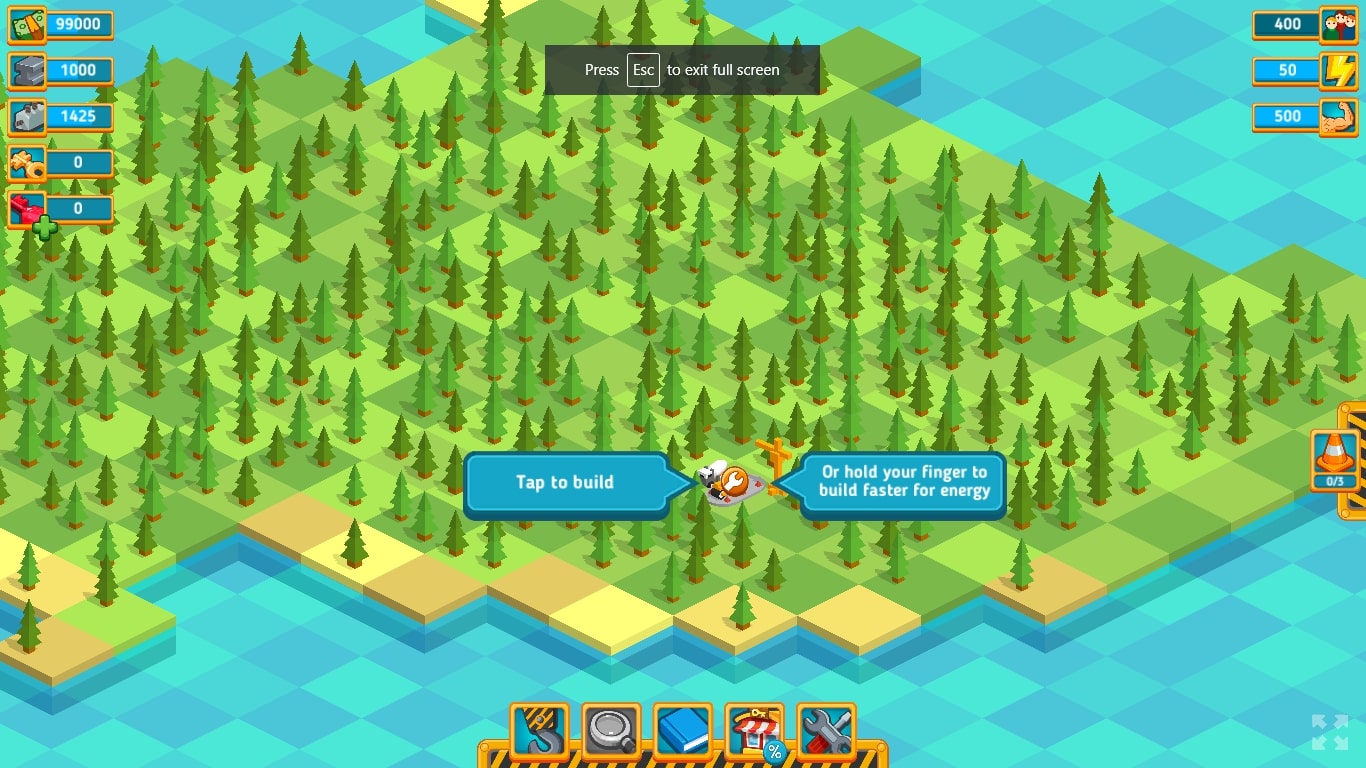 The mouse clicking game is a short and simple version of the popular game – Age of Empires. The primary difference is that there is no limitation on the amount of construction one can do. Players can construct till they fingers exhaust. The game is best for players who want to build their city of dream and at the same time increase their mouse clicking stamina.
Play Tap Tap Builder Game Online
10 – Idle Breakout
Idle Breakout is a fantastic pass time game for those that love the Atari Breakout game. The best part of this game is that it offers several different balls. The significant difference is that players can keep clicking on the bricks to break them while the ball also breaks the squares.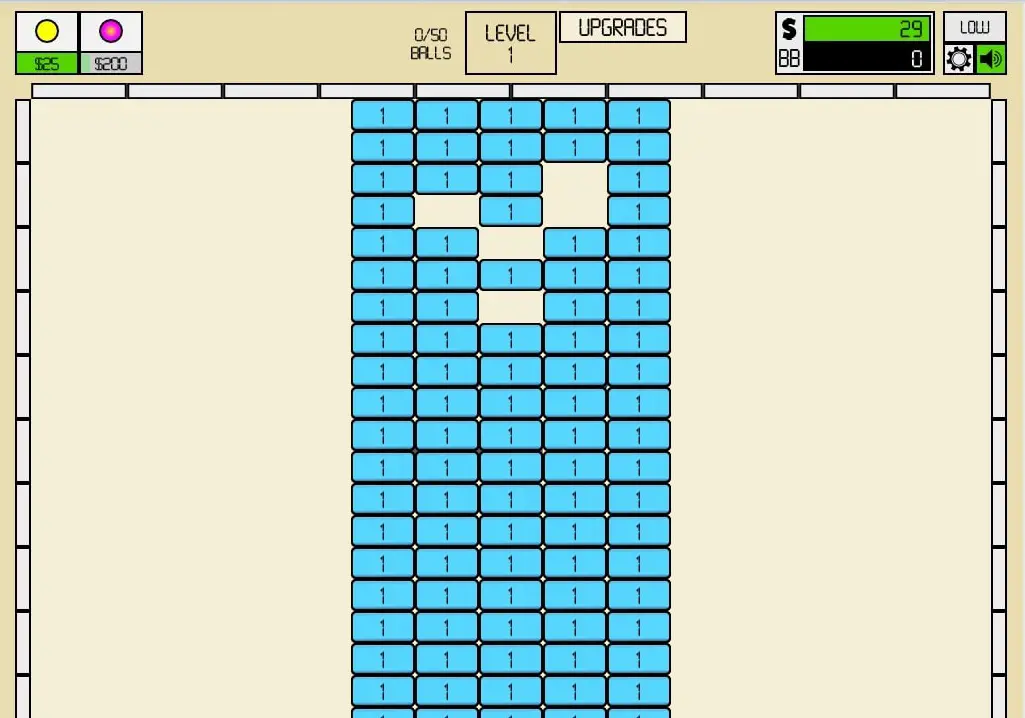 Players can more gold points and use it to upgrade a different kind of balls. Each of the bricks has a number that denotes the number of times it needs to be hit to break it. Idle Breakout is suitable for those that hope to increase their clicking speed while killing time.
11 – Tree Trap Money Idle Clicker
Think you have what it takes to become a millionaire? Try Tree Tap Infinity. It is a fun idle mouse clicker game where players generate virtual money by continuously clicking a tree. A Polish developer dubbed Donislaw develops the game.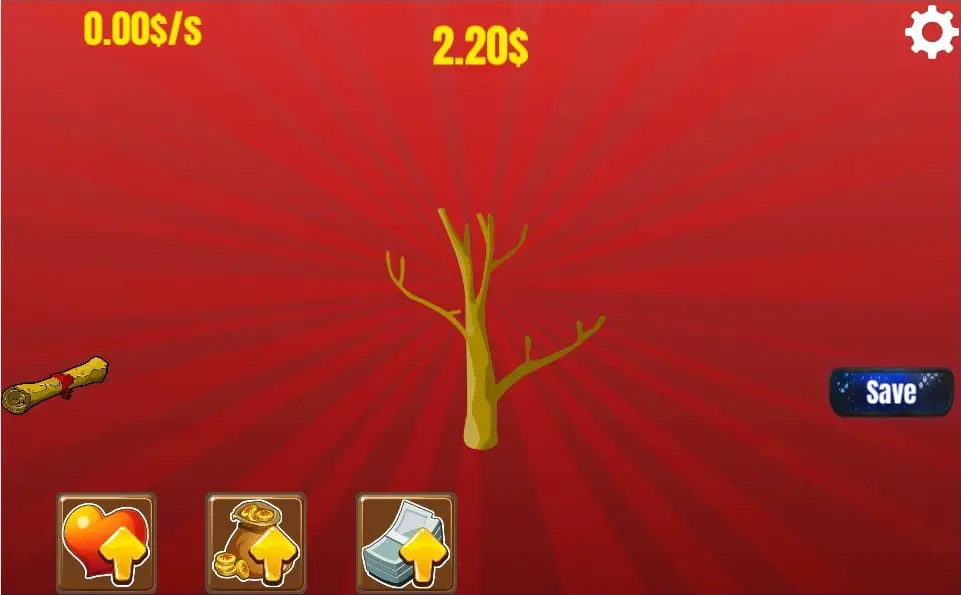 Akin to most mouse clicking games, players here also use the money to purchase upgrades in a bid to progress in the game. The enhancements help increase the amount of money a player earns with each click.
Also, the game prompts various reward upon constantly clicking the play area. Moreover, players can increase their tree level offline.
Play Tree Trap Money Idle Online
There are tons of mouse clicking games online, but we have listed only a few.One can always use Kohi click speed test to determine their clicking skills. There are common platforms such as Crazy Games that publish these games. Hope you have a blast trying some of the games mentioned above.