The market of .io games keeps growing with every passing day and the most growth comes in the shooting games. Shooting is one of the most popular genres when it comes to gaming. The nature of the gameplay and the intensity makes it a favorite genre. We all know some of the big titles in the genres such as Call Of Duty, Counter-Strike, and many more. But it is not always possible to install a heavy game on your pc. That's when players can turn to browser-based .io games. They are fun and easy to play. What's best is that you can start the action with a single click.
List of Best .io Shooting Games
One can expect more action than in a shooting game. There are various types of games such as first-person shooter, their-person shooter games, and others. What makes these games so popular is that there is so much going on from bullets to chaos to explosions. Plus there are so many types of weapons one can use ranging from guns, machine guns, RPGs, tanks, fighter jets, and even warships. With so many titles in the market, one wonders which are some of the best shooting .io games out there.
Top 15 Shooting Games
Speaking of the best, it totally depends on your personal preference. There are hundreds of .io shooting games and all of them are special in one way or the other. But even so, have listed the best 15 .io shooting games that we believe are fun and full of action. Some of the titles earned the spot on our list for being unique. Get ready for some realistic shooting experience.
ShooterZ
Do you like adventurous action shooting games that consist of scouting maps, capturing opponents' flags, and shooting anyone that comes in front of you? If yes, then there is no better title than Krunker. With this FPS (first-person shooter) game, you need to keep your eyes wide open and head in the game as opponents can pop up from anywhere. Wish to know the trick that can keep you alive? Well, there is none. The only trick is to stay alert and constantly keep an eye out for the enemies. Good skills and quick hands will increase your survival chances.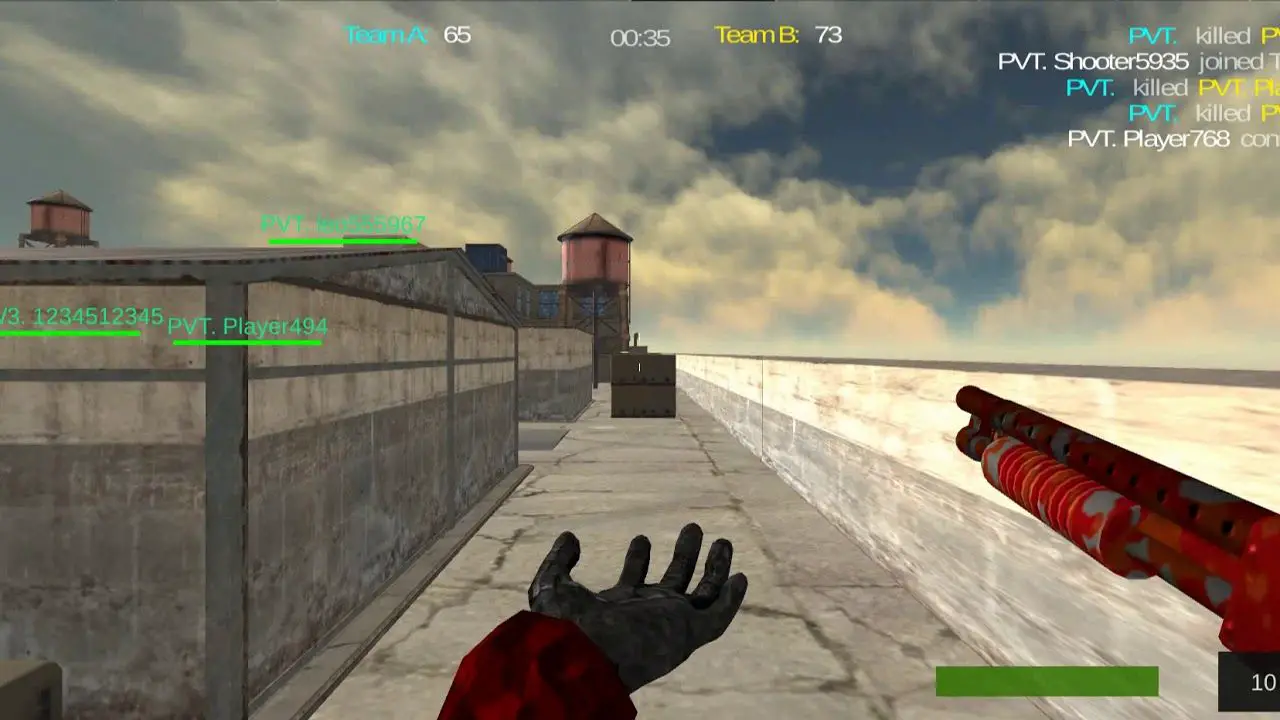 It comes with nine classes and you can choose the one that resembles your style of gaming. There is no going back once you select the class as you will enter the arena right away. It is a multiplayer game with multiple environments. The graphics are amazing compared to many of the shooting .io games in the market. Players can either create their own lobby or directly join others that are available. Users even have the option to quickstart the play.
Many of the shooting io games offer a top-down view, but not the Krunker as a surprise enemy attack is what makes the game interesting. You will have the same opportunity to stealthily speak up on your enemy and strike them hard. Your skills will determine how long you can survive in the arena.
The game is a heap of fun as players can explore the map and shoot down enemies. Enjoy the game combatting with players from all around the globe. It is one of the better PC inspired gaming titles available to play. You just enter a world where everyone is your enemy. Make sure to stay alive while you climb the rankings. Players can challenge their friends by sharing their scores.
Downtown 1930s Mafia
Downtown 1930s Mafia is for all those die-hard fans of Grand Theft Auto(GTA). Much like GTA, the game is played in an open world where you are free to do whatever you like such as driving, shooting, and even explosions. This shooting .io game was released in June 2019. It is new and the game is developed by community given recommendations. In this .io interpretation of the actual GTA, gangs find to claim their hood. You are part of this dirty gang war. One can say it is more like a Ghetto Grand Theft Auto. You are taken back in time just before the second world war, where smuggling, gangs, black market, and illegal trades were at the peak. You can relive the Italian-American mafia era.
The empire city is about to hear only gunfire and some action. Only time will determine how long you can manage to stay alive.
The graphics are amazing and they literally take you back to 1930s time. You play the character of an immigrant in the United States and it's your goal to make your stand in the already populated gang world. The streets are open for you to prove your supremacy. It's time to show your muscle power and own the city. You not only fight for your city but respect as well.
You have to create your own gang and take it to top ranks. All cars are vintage and give you the vibe of living in that time. What adds to the feel are the Tommy guns. It is time you become the don of the mafia world. It is not easy as there are hundreds of players that will compete for the top seat in the Mafiosi world. The third-person- shooter game is amazing and is constantly upgraded. Akin to the GTA, players can shoot the gas stations to create an explosion. One good feature of the game is that it comes with a bad words filter.
Air Wars 2
Tired of combating on land? If so, then Air Wars 2 is going to blow your mind with amazing 3D graphics and battle on air. Being a pilot is amazing, even if it's in a game. But what is more exciting is playing as a combat pilot. Air Wars 2 is one of the best .io air shooting games. Join players from around the world to compete in one of the most intense battle battles.
Players can choose from a number of fighter planes. But once you enter the cockpit, it's time for action. Each of the fighter planes is equipped with powerful weapons, shields and much more. You can upgrade as you go ahead in the game. Maneuvering the plane quickly is what will save you from falling down to earth. The idea is to shoot down other planes while dodging your enemy's firepower. Only time will say if you are able to eliminate your opponent's planes or you crash.
As soon as the game starts, you will find the sky in chaos. Get your game face on and get ready to take down anything you see in the air. What's amazing is that the map has beautiful structures, warships, and much more. The map has the ocean, mountains, and even skyscrapers. Flying through the valleys is a good test for your flying skills.
One could say Air Wars 2 is a sky-version of capturing the flags. You will have to take a flight to scary heights to combat the enemy jets. Players can equip their planes with tailor-made weapon combinations. Firepower is not the only thing that will take you through the finish line. The idea is to use the enemy's strength against them. Observe their movements and attack accordingly.
You can acquire assistance from other planes in the air to dominate the skies. Winning will unlock more planes. Players also have the choice to customize and upgrade their planes with the cash they earn after winning games. One of the best parts of this shooting .io game is that it has night and day maps. Players can also choose to play Air Wars 3,-the upgraded version of the game.
Realistic Zombie Survival Warfare
Our list of best .io shooting games would be incomplete if we didn't include any zombie games. Realistic Zombie Survival Warfare is a 3D first-person shooting game. It keeps to its name in a true sense as every minute of the game is a fight for survival. You will see bloodthirsty zombies - both in the form of humans and dogs running to kill you.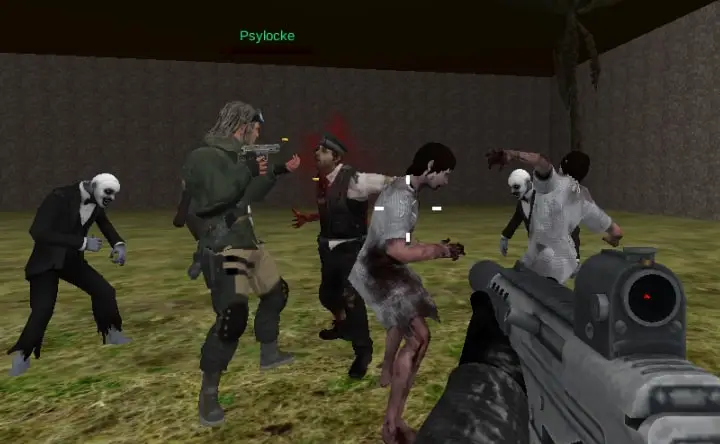 Accurate shooting skills and quick movements are what can help you survive. Players can purchase and upgrade new weapons. You have to make sure that your weapons are locked and loaded at all times, as being caught without bullets will end your life sooner. It's best to keep an eye on the ammo and make sure to reload it on time. Once you are in the arena, there is time to rest as you will be attacked wave after wave of deadly zombies. The graphics of the game is awesome as the bloodthirsty zombies look real.
The idea is to take on each wave as they come and not worry about the impending rabble of bloodthirsty enemies. As the game progresses, the number of zombies will increase per each wave you kill. You are rewarded with money for every kill and the same money can come in handy to purchase more ammunition. The game has six arenas that players can choose to play from.
Players can either play as a team in the multiplayer mode or choose to play solo in the campaign mode. In the campaign mode, you will have to pass all the stages and find the cure to end this infestation of bloodthirsty creatures.
In short, you are thrown in the middle of the zombie apocalypse. As the game progresses you will unlock more maps. Let's see if you can survive the zombie apocalypse or end up being undead for life. It's your chance to save mankind. If playing in an apocalypse is what you like, then you can also try the Crazy Pixel Apocalypse game.
Play Realistic Zombie Survival Warfare
Assault Force
Are you looking for a .io shooting game that is as good as console and PC games like Call Of Duty? You are in luck, as the Assault Force is an amazing shooting title that comes with great awesome graphics. It is a 3D first-person shooting game. All you have to do is load your weapons for an intense battle. It is your duty to take your team to victory.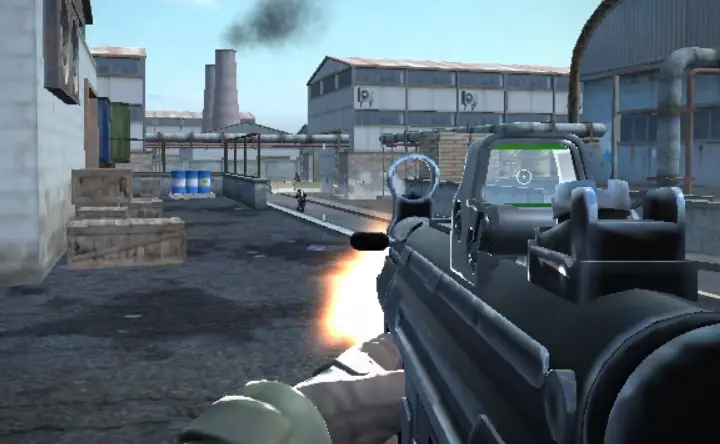 Assault features the special forces and its graphics make you feel like a soldier on duty. Players can either choose to with other players or computer bots. Both ways are fun but playing with other players from around the world makes the game all the more fun. It is a good test of your skills to see if you are the best combatant in the world.
Akin to most of the shooting titles, you have to watch your back and stay alert at all times. Assault force is set in the modern landscape and contains many advanced ammunitions. There are three game modes - Free for all, Death Match, and Capture the Flag. All of the modes are fun to play and allows you to improve your shooting skills. Each mode is set in a different landscape to make the game more intense.
What's great is that the maps consist of a lot of walls that help you to save yourself from the non-stop firing. This really helps especially in the 'free to all' mode as players pop out from anywhere. The 'free to all' mode will help you increase your speed and accuracy. Let's see if you can get a bug kill streak. Dieng is very common in the map but what makes it fun is that you are reborn in a few seconds. The skills you develop will help you in the 'Death Match' and 'capture the flag' modes.
Water wars
Are you tired of combatting on the ground and air? Then it's time for some battle in the water. Water Wars is an amazing water shooting game where you fight as a team. The boats or tine marine warrior ships are equipped with enough firepower to take your enemies out. The fighting boat looks more like a jet ski packed with ammunition. The jet-ski cum battleship is slim which gives it the speed and the modern look.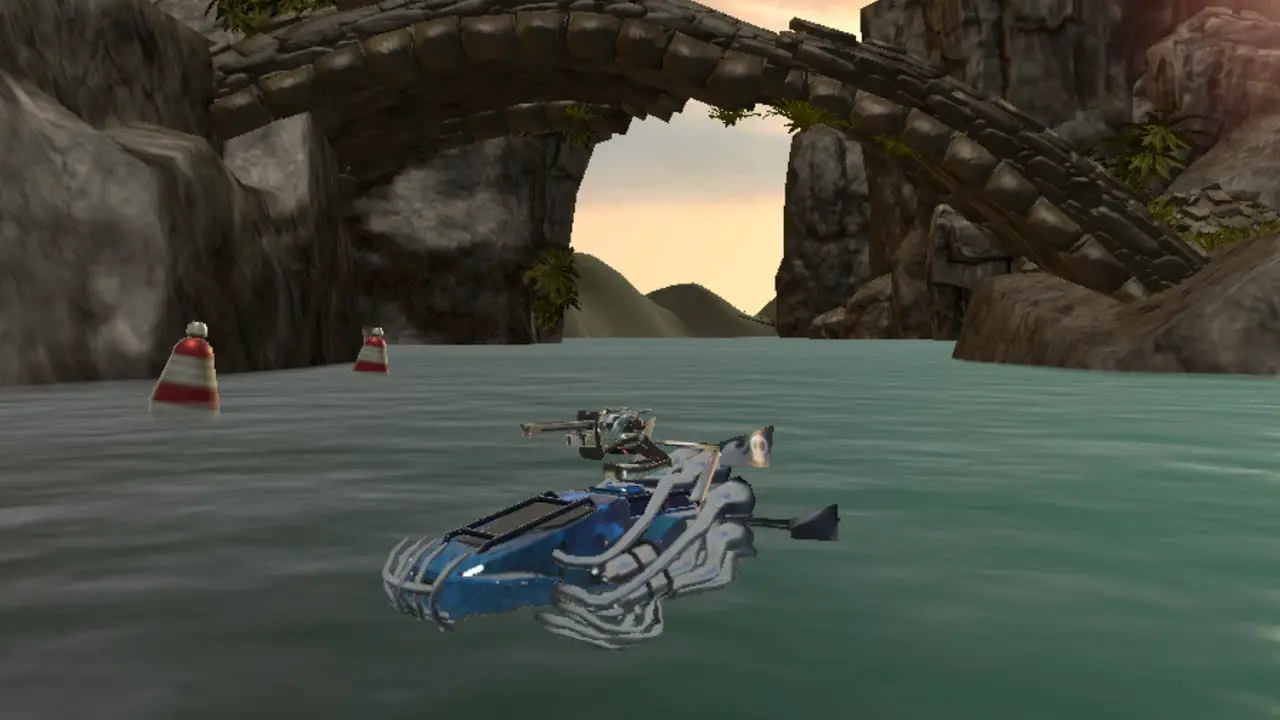 The game is a simple capture the flag and is a single-mode game. You just have to enter a lobby or create one to play with your friends. The basic idea is to defend your flag while capturing the enemy's base. There are two teams - red and blue. The water map is spread between two islands. What's great is that boats are equipped with wheels that you can drive on the island at the same speed you drive on the water. The graphics are pretty cool and one can even see ripples in the water as the maneuver. There was no doubt that the graphics would be impressive as Water Wars is developed by Martian Games - who have created successful titles such as Air Wars 2 and soccer.
It is your chance to fight in the open sea and bring your team to victory. Each team has its own base or one can call it a battle station. It is best to use a team and strategy to capture the flag. Each time you capture the flag your team will earn a point. The team with maximum points wins the water battle. You can increase the power of your jet skis with buyable upgrades.
Beyond water guns, the modern jet skis are even equipped with explosive projectiles. The jet skis also come with a nitro boost that allows you to cruise at unbelievable speeds. The feature is helpful when catching up with your enemy. Be mindful their jet skis have the same boost, so use the speed booster cleverly.
Sniper Attack 3D
Our list would be incomplete if we didn't include any sniper shooting .io game. What better sniper game is there than the Sniper Attack 3D. The game allows you to become the best assassin. Watching the Hollywood blockbuster - American Sniper has inspired many of us to jump in the scope to shoot enemies. We may never be a deadly sniper in real life, but you can rule the virtual world with your skills. But why snipe? Because getting close to the enemies is not safe, so it's best to take them down from far.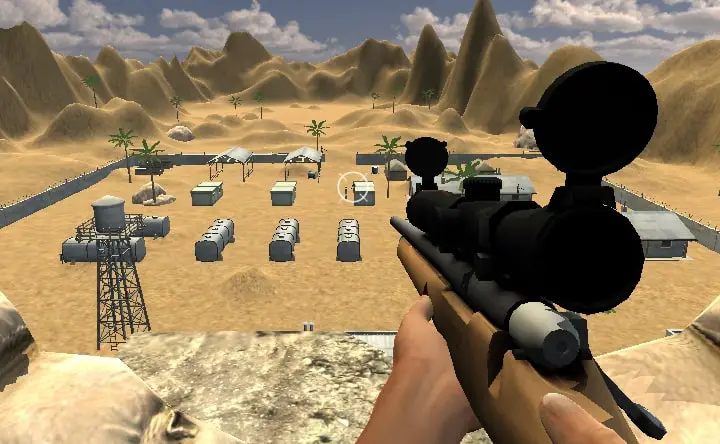 Patience is key when sniping. In the Sniper Attack 3D game, there are multiple targets that you have to simultaneously take down. The trick is to observe the enemies patiently and eliminate them cleverly. You could compromise your mission if you shoot without assessing their positions. Any mishits will give away your position and you'll end up dead. Make every bullet that leaves your sniper count. We all know the phrase "shoot to kill", well it is true for this shooting .io game as the enemies won't miss an opportunity to return fire. What makes the Sniper Attack 3D game special is that it allows you to become an elite marksman and test yours through different missions.
Players can upgrade to new snipers as they successfully complete missions. Purchasing new snipers and gear is necessary as it will increase your accuracy and distance of your shot. Let's see if you can take out all targets without being caught.
From the vantage point, you have to examine the area and learn every movement your enemy makes. Once you are ready, zoom in the scope and eliminate the target. Players must read the instructions of the mission carefully to avoid any error. Only your skills will determine if you can become a legendary sniper. Get ready for some serious action. If you complete all the missions, then there are a number of other sniping .io games that you can try such as Ghost Sniper, Lethal Sniper 3D Army Soldier, Sniper Team, Stealth Sniper and many more.
SocCar
Have you ever thought that soccer can be played with cars? No, right. But the SocCar is a whole different game. Soccer is played with the foot but in SocCar you play with the remote car. Sounds fun? It is indeed the most interesting title we have come across. The game is a fun blend of sports, cars, AI, and a whole lot of shooting. If there was one game that is not only about the shooting but a lot more than it is SocCar.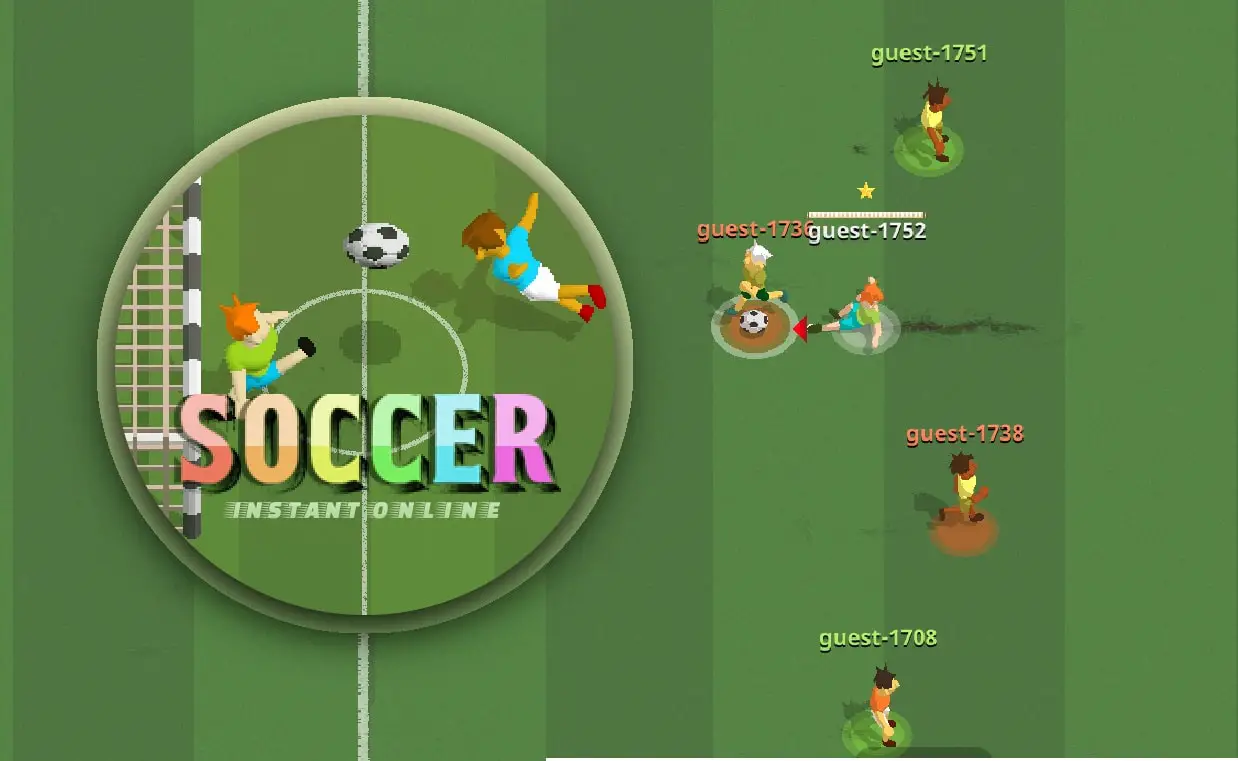 There are two teams in the game - red and blue. The idea is the same as soccer where you score the ball into the opponent's goal post. But in the SocCar shooting game, the ball is huge. You can either control or pass the ball using your firepower or just push it with the RC car. The team with the most goals within a given timeline will win the game. Players will take some time to adjust to the mechanics and controls. Controlling the RC cars is not as easy as it is in fast-paced gameplay. Now let's talk about the shooting. Every RC car is mounted with powerful guns to shoot your opponents or move the ball around.
The best way is to shoot your opponent and use the time to score a goal. The objective is simple, dodge the bullets, take the ball, and score all the many goals you can as a team. It is a whole new experience that the game developers offer. The game has two themed arenas and players can even perform crazy somersaults with their RC cars. Performing tracks such as leveraging the sideline to toss your RC in the air is a great way to avoid the enemies. Players can upgrade their cars as they pass different levels in the game.
The SocCar is by far the most unique and fun shooting game to play. The uniqueness makes it one of the most popular titles. All we can say is let's SocCar and have fun!
Warscrap
Warscarp is an amazing third-person shooting .io game. The gameplay is intense and fast. You need to have quick fingers and accuracy to win. There are two teams and your aim is to eliminate your opponents - the robotic monsters and invaders and defend your machines. Players are notified when one of their machines is under attack. Warscrap is an epic defense game. It is team-based defense gameplay where you and other fighters battle a bigger enemy and stop them from reaching the core reactors. The best way is to defend the reactors with 10 players around it.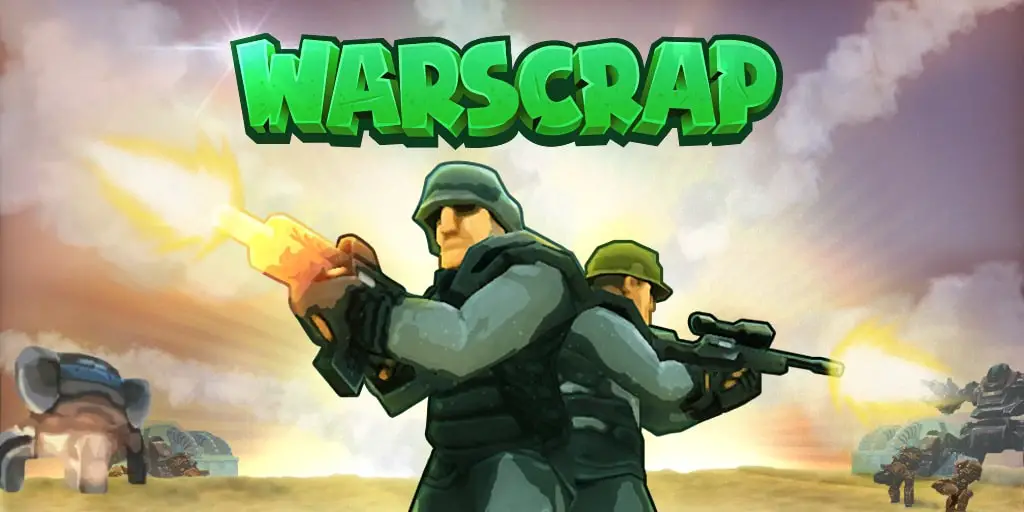 Players with higher scores are able to unlock additional weapons to help them fight the machines more relentlessly.
You and players from around the world are tasked with the same objective to kill the monster robots. The final goal of the Warscrap is to destroy the leader of the enemies with the help of fellow fighters. The enemy hides behind the mountain. The enemy leader is huge and packs the most powerful weapon so don't think of going close to it.
Forget about hiding as enemies can pop out from anywhere. It's an all-out war and without a pause, and it's your duty to bring your team to victory. Apart from guns, players are equipped with swords for close combat. Adding swords is a nice touch as it is handy when you are out of ammunition. Players earn more points as they kill more invaders.
Being fans of the game, we will let you in on a secret trick. Players can hop on the military cars mounted on with automatic machine guns that not only can destroy the invading machines but also significantly harm their boss. Players have to defend themselves, their territories and at the same time shoot the invaders. Let's see if you can own their territory before they invade yours.
Javelin Fighting
Javelin Fighting is a medieval-style thrilling shooting .io game. Some may debate in calling it a shooting game, but in fact, it is an older style of battle or shooting method. It is a simple, straightforward yet enticing gameplay. The stickman fighting is played 1-on-1, so you need not worry people pop out of anywhere. It may sound easy but the battle is furious.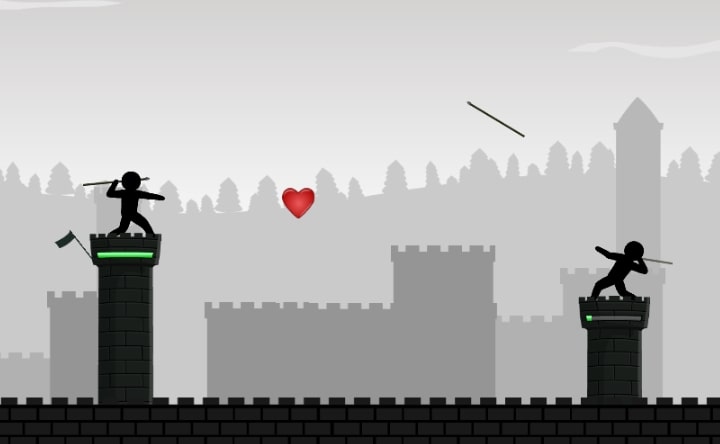 The game is a good test of your mouse control skills as you have to aim and strike the opponent. Time to flaunt your javelin throwing skills. It is simple you beat your opponent and you are declared the champion. The game will become intense and difficult with every passing level. You have to hold your left mouse button to aim and increase the javelin throw intensity before releasing it.
The game may look boring at first but to your surprise, it is one of the most popular shooting games not only on PC but also on phones. The idea of the game is simple, hit the opponent and try to decrease their health. A health bar displays the health and once has to make sure that their enemy's health is reduced to zero. It might take multiple strikes to do that at one headshot to eliminate your opponent.
But remember you can't dodge off incoming javelin as players can't move in the game. The only way to evade the attack is to strike their incoming javelin with your javelin throw so it crashes and falls. That is why it is all the way more important to accurately take them in a single headshot. It is not easy as you have to determine the trajectory and power of your throw. You can also beat the opponent by throwing more javelins in a short time.
What's made the Javelin Fighting so popular? It's physics and simple gameplay.
Bullet Force
Bullet Force is a thrilling multiplayer first-person shooting game. The 3D game has amazing graphics that make you feel right in the middle of a war. Players can create a room to invite friends or join an existing room to start the action right away. One can purchase weapons including RPGs and advanced rifles. But one must remember you can unlock these weapons after you achieve kill-streaks. It's time to test your shooting skills.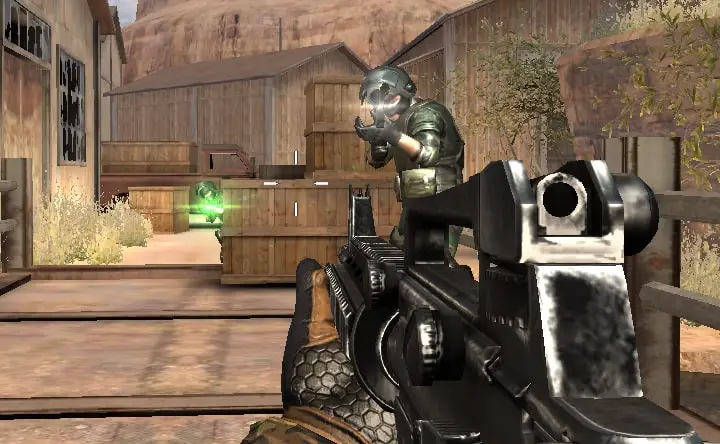 Bullet Force is divided into two teams - blue and red. The graphics are so cool that you feel similar to playing a small Call Of Duty map. There are ten maps and each is equally challenging and fun to play. Once you are on the map the only thing you will see is bullets flying and blood spillage. You need to move quickly and shoot even quicker. The multiplayer mode allows better killstreak perks and much more.
What's interesting is that Bullet Force has a practice mode where you can practice your skills. Players have multiple weapons to choose from. The three modes include Team Deathmatch, Conquest, and Free for all. The game has an in-game credit system through which you can buy and upgrade weapons. There are over twenty weapons, laser sights, multiple weapons camouflages, and grenades. To make it even more fun, players can even switch to fullscreen.
One can fight alongside teammates in an intense twenty-payer mini-war game. Bullet Force also has a spectator mode to inspect the map. Only time and your skills will tell if you could hold in the 3D game. Either hunt down your enemies or wait for them to attack you. Either way, you won't have any time to take a break as your enemies won't allow you. The Player's ultimate goal is to wipe out the enemies as fast as possible and as quickly.
Forward Assault Remix
Are you a fan of the world's most popular shooting game Counter-Strike? If so, then the Forward Assault Remix is the .io game that you are looking for. It is perfect for those who don't want to install Counter-Strike (CS) 1.6 but rather play a similar title online. Akin to CS 1.6, the FPS game is simple, all you have to do is shoot down the enemies. You and your team have a goal to eliminate every member of the opposite team.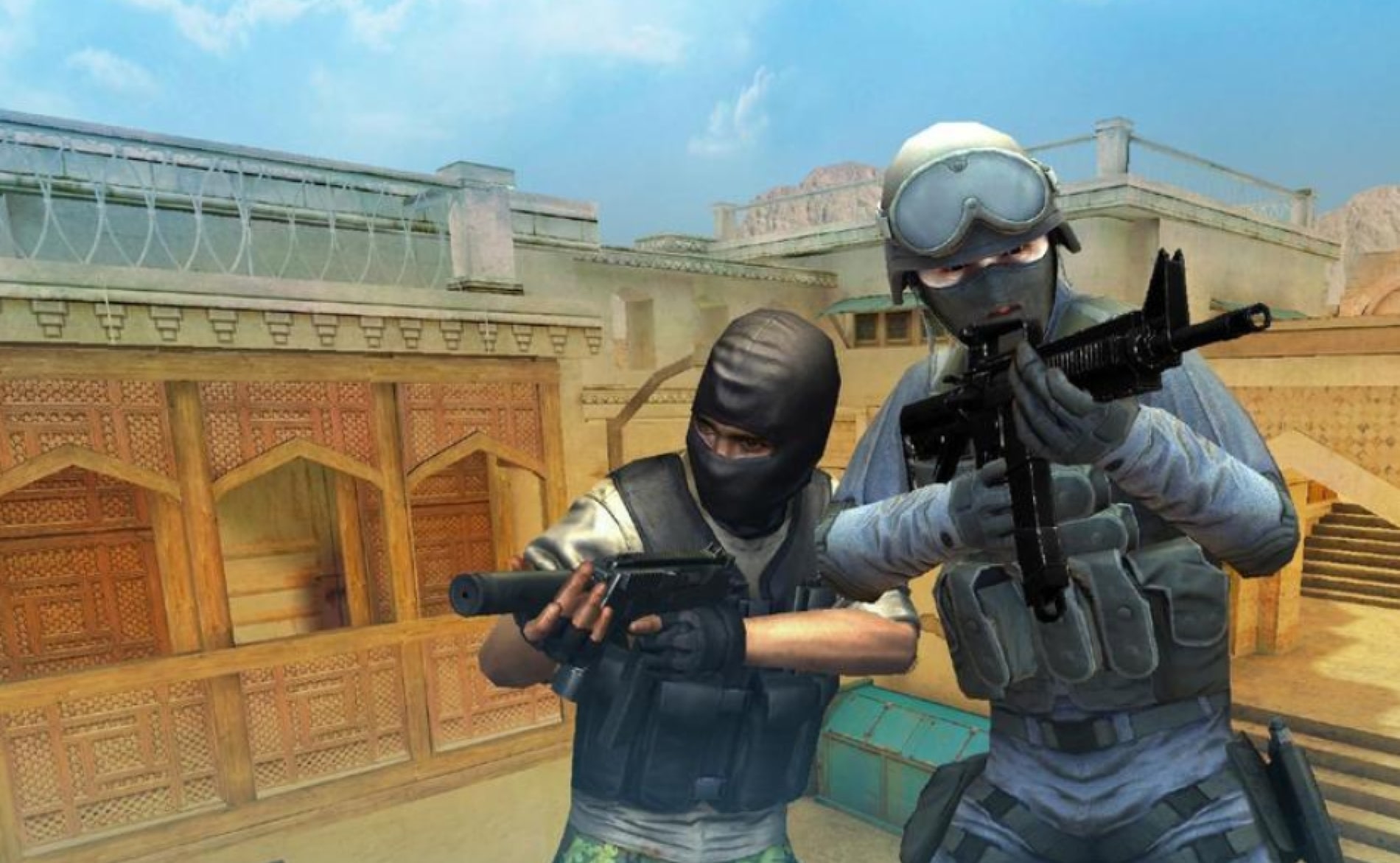 What's more, the two teams in the game are Counter-terrorist and terrorists that want to burn the world. Choose the team you enjoy and lead your team to victory. Akin to CS 1.6, the Forward Assault Remix has multiple game modes such as team match, defuse the bomb, and others.
Players can enter the fray and show their skills. The game has various maps that are set in different environments such as snow-covered mountains, urban areas, and more. Choose the one that you like and start the adrenaline-pumped shooting game. One of the best features of the game is that Forward Assault Remix has most of the favorite weapons.
The game is created by Blayze Games - who are also the developers of the popular .io action title - Bullet Force. The best mode is the deathmatch, where the team with the highest wins in a given time will come out victorious in the battle. It is a last-man-standing battle, so in case you die, you will have to wait for the round to finish and prepare to take revenge in the next round.
What could decide your winning is the tactical gameplay and teamwork. Apart from shooting, players have to sneak and distract and even use the covers to hide at times to win.
At the start of the game, players are given a pistol and knife. Earn money by eliminating enemies to upgrade your arsenal. Its similarities to Counter-Strike make it very popular among an already existing fan base. Forward Assault Remix offers realistic gameplay.
Tank Off 2
The Tank off 2 is an amazing shooting game if you love tanks. It's your chance to control one of the most furious machines when it comes to ground battle. It is a sequel of the Tank Off title that received praise for its gameplay and graphics. As such the Tank Off 2 offers a lot more fun than its precursor.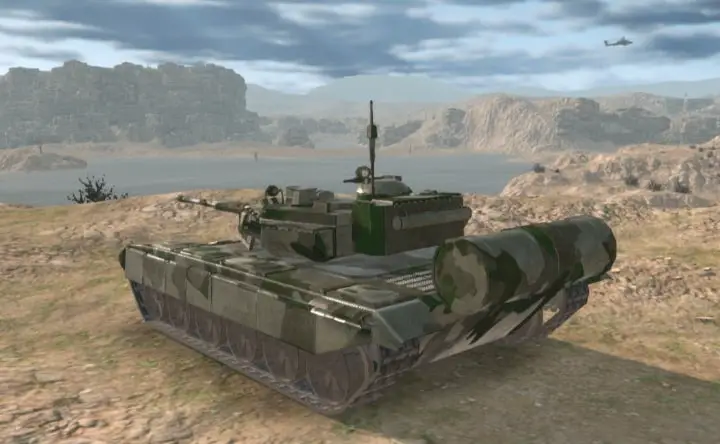 Tank Off 2 is a capture the flag game, where two opposing teams try to capture each other's flags. Before attempting to capture your enemy's flag, it is all the more important to survive from the constant bombing of your opponent. Each team, the red and the blue have their own bases and all a player has to do is reach the opponent base and steal their flag. Sounds easy, right? No, it isn't as your opponent will also attempt to steal your team flag.
The title features a realistic graphic environment and beautiful maps. The game has multiple maps but the most popular is the default map that is set around mountains and rivers. The tanks are armed with powerful guns and robust armor.
Akin to most of the .io shooting titles, players can either log in and play or choose to enter the game as a guest. The better option is to log in and play as then only you can upgrade your tanks with better firepower. Every tank has its own features and players can only upgrade the tanks through the in-game currency. You can earn money only by destroying your enemies and winning battles by capturing their flag. Control a myriad of tanks and display your superiority on the ground. If you are looking from ground to sky battle, then you should check out Flakmeister - where you shoot down jets by your tank. The game is equally fun but it is not as thrilling as the Tank Off 2.
SCAR
Do you guys love Player Unknown's Battlegrounds (PUBG)? If so, then SCAR is the .io alternative to it. Similar to PUBG, the SCAR is a last-man-standing battle. It is an epic 3D game with amazing graphics. The idea is simple, you have to shoot down every other player on the landscape. But first, you have to pick up weapons, armors and many other things to survive.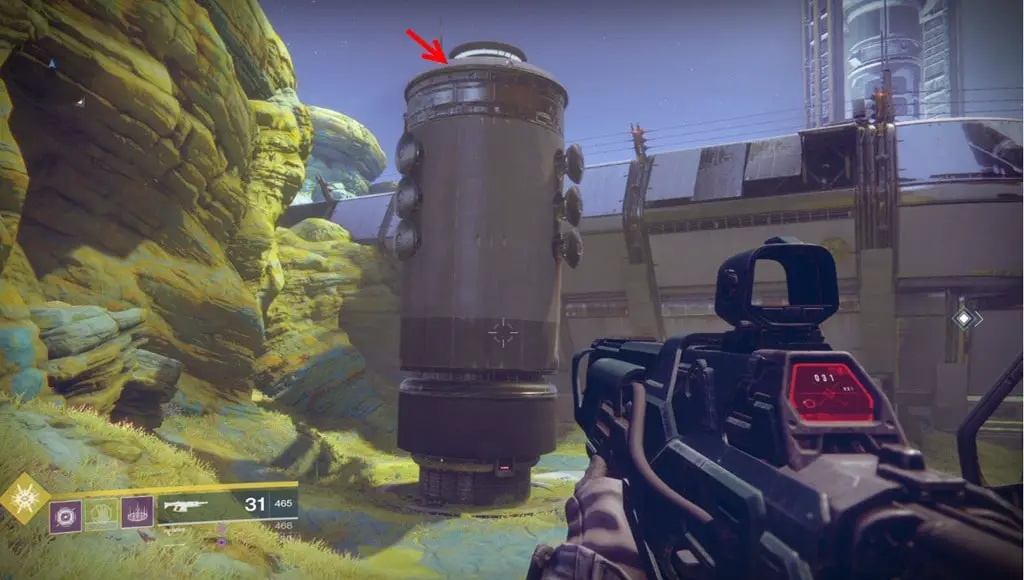 What's great is that you can hop on a vehicle and ride it around the map. The maps have cars, quad bikes and much more to drive you anywhere you like. They are great to travel around the vast map, but there is nothing better than running. Going on foot has a lot of perks, as you can pick up a lot from each house you pass. Plus you can hide and take shelter anywhere without being spotted. At times, vehicles give away your position. Alertness is important as your enemies can pop out of anywhere, and do remember there is not one but tens and hundreds of them looking to kill you. Always watch your back and observe your surroundings at all times.
The third-person battle royale gameplay is thrilling and offers unlimited fun. Players will take some time to master the controls. But once they do, you will be on fire taking down all your enemies. Stealthiness is something players must master. Most pro players don't go blazing in the open as it will increase your chance of being spotted. With so many weapons to pick, choose the one that you think best matches your gaming style. If you like close combat, then choose weapons that cause more harm in a short-range. But it is always best to carry a combination of weapons as the landscape is huge and you don't know when the need for a long-range weapon may arise.
Let's see if you can dominate the battle royale gameplay and come out victorious.
Special Strike
Special Strike is a 3D first-person shooting game. The title shares many similarities with Counter-Strike. As such many of the maps are identical to some extent. The game is simple: you are either part of the terrorists or the counter-terrorists side. You have a myriad of weapons to choose from. It includes rifles, semi-automatic weapons, and pistols. The range of weapons is amazing as it makes it all the more fun. Players will find almost all varieties of firepower they want.
Special Strike features a number of amazing maps to play. Players win the game by getting the highest score at the end of each round. It is difficult to defend yourself from the constant flow of enemies popping out of everywhere. The best way is to move continuously and shoot fast as enemies will come in from all directions. Akin to most of the shooting games, players can take cover behind objects in the map or crouch to dodge bullets. But one can't hide for long as enemies can appear from anywhere. So forget about hiding and stealthiness. It is not a defensive game but rather an offensive one.
It is a good game to develop your shooting speed, sense of presence, and accuracy. The gameplay may seem challenging at first, but gradually you will perform well as you understand the map and the enemies. If you like a multiplayer game where everyone is on the opposing team, then Special Strike is the game you are looking for. The graphics and sound of the game are amazing and almost realistic. Certainly, it is not as good as Bullet Force and Forward Assault Remix.
The above are amazing .io shooting games that we feel are better than others. The .io game genre is as vast as the ocean and there are many games that are not on our list but are equally fun. Head to one of the browser-based gaming websites and have fun.